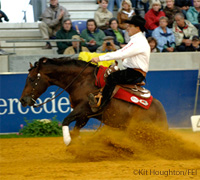 Duane Latimer of Canada rides Hang Ten Surprise at the 2006 World Equestrian Games in Aachen, Germany. Photo by Kit Houghton/FEI
For the first time, Germany will host the 2009 FEI European Championships in Reining.
The event, October 7-11 at the Kreuth (Oberpfalz) facility near Nuremberg, Germany, will include another milestone as it will be the first European Championships for junior and youth riders.
"NRHA Germany is honored and proud to be able to organize this renowned event," said Kay Wienrich, NRHA Germany president and coach of the German team, which won the gold at the 2007 European Championship. "And a very special thing is the first EC for young and junior riders. Kreuth should be an excellent chance of preparing for the WEG in Kentucky as well."
The first European Championships was in 2003 in Reggio Emilia, Italy. The event is held every other year, and the last event was held in Mooslargue, France, in 2007.
The 2009 event will unite European reiners like 2007 and 2008 FEI World Reining Master champion Rudi Kronsteiner of Austria, 2009 National Reining Horse Association European Futurity champion Bernard Fonck of Belgium and 2007 reserve European Championships reiner Nico Hoermann of Germany as well as many of Europe's other top reiners.
The European Championships for junior and youth riders also will feature many top young riders, including 2009 NRHA Germany Easter Show CRI champion Josefin Lintner of Germany.
"There are plenty of talented young reiners in Europe, and we want to offer them a fine platform to present themselves," Wienrich said.