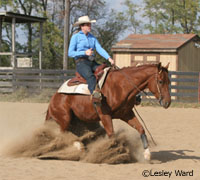 The National Reining Horse Association recently approved revolutionary show and class formats to welcome riders of all levels to the Reining arena. NRHA will make it easier to show, easier to compete at a comfortable level and easier to develop Reining skills. The entry-level competition format will begin in 2010 with details emerging later this year.
The four-tier program provides a fun, educational and family-oriented ladder of class and show formats. Each rung of the ladder welcomes beginning reiners with opportunities to compete with others of the same skill level while gaining more experience. In addition, an awards program will recognize riders for their achievements.
The new program offers reduced entry-level membership fees accompanied by a sampling of NRHA member benefits. The membership gives riders the ability to participate in this program and earn points toward a host of awards. An even more appealing facet to this program is that some levels do not require ownership or NRHA competition licenses.
All in all, NRHA's entry-level class and show formats will open the arena to all riders from all backgrounds. More details will be released as they are finalized, but NRHA encourages you to start legging up your horses and get ready for an exciting year in the NRHA Reining arena.