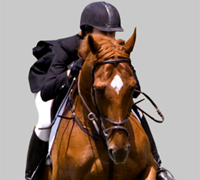 Equestrian Sport Production, LLC (ESP) would like to invite all artists of any medium to compete in the first annual WEF Souvenir Poster Contest! As a new tradition ESP and the Winter Equestrian Festival will be selecting an "Official Poster Artist" whose artwork will be used in creating the inaugural 2010 FTI Winter Equestrian Festival 's souvenir poster.

What we want…
Talent, style, and a unique perspective of the WEF's signature venue elements. The final poster should convey aspects of the venue that make the Palm Beach International Equestrian Center one of a kind. Visit www.equestriansport.com to view photos of the PBIEC and see what it's all about. Signature images could include the one of a kind Tiki Hut along the International Arena, Florida's Classic Palm Trees, Peaked Tents Shading Box Seats, and the beautiful Bougainvillea lining the Black Fencing as well as the Logoed Bridge and of course the incredible hunters, jumpers and dressage exhibitors that compete on the highest levels each winter season during WEF. No banners, logos or corporate signage will be allowed in the final poster design. Artists can submit artwork or an actual poster design, both will be considered on equal basis.

And the Winner is…
In addition to the honors of winning, the selected artist will receive $500 in prize money, 2 complimentary weeks as a vendor during WEF 2010, an eBlast announcing the winner to over 5,000 exhibitors and spectators, a featured article in the WEF Program, complimentary participation in "Open Your Heart to Art" event and a one week art show in the International Club's foyer. For more information, application and venue photos to use as reference, please visit www.equestriansport.com and click on the artist icon.

So sharpen your art pencils and bring out your favorite paint brushes, we are calling all artists to compete in the 2010 WEF Poster Contest!

The entry form is available at www.equestriansport.com. For questions contact: E. Hedley 561.793.5867 x113


Details:
Application and CD Deadline Aug 1, 2009
Winner Announced Aug 15, 2009
Final Poster Image Size 15×22
Art Production Deadline Sept 1, 2009
ESP will retain the rights to the winning image to use however they wish.
Any medium can be submitted: watercolor, oil, acrylic, pastel, pencil, charcoal, gauche…,etc
Please submit a high res (300-600dpi) PDF or EPS file, on CD to the following address:
Call For Artist, Attn: E. Hedley, 14440 Pierson Road, Wellington, FL 33414
Read about an equestrian artist here.