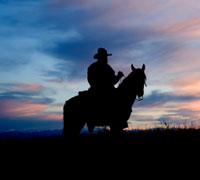 The American Horse Council is pleased to announce that the U.S. Senate passed a resolution on Monday, June 8 honoring the American cowboy. The resolution, introduced by U.S. Senator Mike Enzi of Wyoming, designates Saturday, July 25, 2009 as "National Day of the Cowboy."
The bill pays tribute to the enduring legacy of the cowboy in America and the contributions cowboys continue to make to our nation today.
"I am happy the United States Senate is honoring such an enduring cultural icon of the American West that is irrevocably linked with the history of the horse in this country. It is important to remember the cowboy and the horse remain an important part of America still. This resolution recognizes both the history and the continuing contribution of the American cowboy" said AHC President Jay Hickey.
The National Day of the American Cowboy has been observed on the 4th Saturday of July every year since 2004. Each year it must go through the legislative approval process until the President designates it as an official day of recognition.
Local celebrations are already planned. To find one in your area, visit http://www.cowboyday.com/happenings.php.