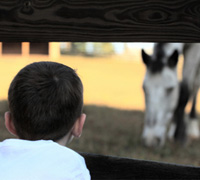 Since 2004, the nonprofit organization City to Saddle has provided a diverse population of economically disadvantaged children in the Boston metro area with riding lessons, summer camps, and other equestrian opportunities. Today, City to Saddle is proud to announce its expansion to major cities nationwide.
"It is magical to watch children form relationships with horses," said City to Saddle co-founder Kim Summers. "The goal of City to Saddle is to ensure that these transformative equestrian opportunities are available to all children. Through our Boston program, we've created a template so that other like-minded individuals can take what we've built and offer it in their cities and communities."
City to Saddle is based on an innovative community-wide collaboration. Youth mentoring organizations like Big Brothers Big Sisters identify interested children. Licensed riding stables offer horsemanship-centered riding programs. Local equestrian business owners and individuals donate equipment and volunteer their time. Artists celebrate their successful partnership, as Vanessa Wright has in her touring equestrian exhibit, The Literary Horse: When Legends Come to Life. National and regional agencies, such as the EQUUS Foundation, have also awarded City to Saddle grants to assist in covering the costs of the program.
Since its formation as a 501(c)3 nonprofit organization in 2004, City to Saddle has provided more than 250 children with riding opportunities. Janet Mitchell described how her daughter, Laura, blossomed participating in one of these opportunities, the Pony Kids program at Woodsong Farm in Brewster, Massachusetts. "She's opened up. Just watching her ride the last day of camp, watching her smile, sitting up on the horse confidently. Being in a new situation is tough for Laura, but she was smiling. For me, that was 'Wow!'"
"This Charter Member Initiative will provide our members the guidance, expertise, and materials needed to run a regional City to Saddle initiative and allow us to reach many more children," concluded co-founder Barbara Zenker. "This is a very exciting time as we progress nationally with our first charter members!"
For more information on donating, sponsorship, volunteering, or starting a program in your area, please visit www.citytosaddle.org .