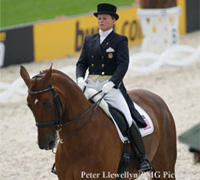 Debbie McDonald riding the now-retired dressage legend Brentina.
The Potomac Valley Dressage Association (PVDA) has confirmed Debbie McDonald as the Dancing Horse Challenge celebrity guest speaker on the evening of Saturday, June 27 at their weekend-long PVDA Ride for Life™ Dressage Show. Dover Saddlery and Nutrena, as platinum sponsors this year, are also generously sponsoring Ms. McDonald's appearance at the event.
Celebrity guest speaker, Debbie McDonald, is an Olympic and World Equestrian Games bronze medalist and Pan American gold medalist, as well as the first U.S. rider to hold the title of Dressage World Cup Champion. She has represented the United States in the 2004 and 2008 Olympics, 2003 and 2005 World Cup, and 1999 Pan American Games. Ms. McDonald has also graciously agreed to donate a riding clinic to be auctioned off to support the Ride for Life™ cause.
"This is a chance for you to make a difference by attending, raising donations or becoming a sponsor at the 2009 Ride for Life™ to benefit breast cancer, a cause that affects us all, including those in Olympic Sport. Be with us on the special evening Saturday June 27th to hear Debbie McDonald and see a number of her fellow Olympic and National Championship riders compete at the Dancing Horse Challenge. Let us make it as our own personal challenge to together fill the 3,000 seats at the Prince Georges Equestrian Center, and meet our fund-raising goals for 2009. We are counting on you!" says PVDA President and Ride for Life™ Co-Chair, Marne Martin-Tucker.
Now in its sixth year, the PVDA Ride for Life™ has already raised over $161,000 in rider donations and sponsor contributions for The Johns Hopkins Avon Foundation Breast Center in Baltimore, Maryland.
Saturday evening's Dancing Horse Challenge has become one of the largest equestrian freestyle performances in the Mid-Atlantic Region and is popular with both the sport horse and non-equestrian communities in the area.
The show is held at the Prince George's Equestrian Center in Upper Marlboro, MD outside of Washington, D.C. and hosts over 200 competing horses.
For more information about the PVDA Ride for Life™, visit www.pvdarideforlife.org or contact Hilary Moore at (413) 246-7494 or marketing@pvdarideforlife.org. For more information about the PVDA, visit www.pvda.org.
Watch Debbie and Brentina at the 2008 Olympic trials >>