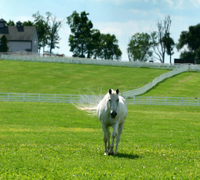 The University of Kentucky Equine Initiative will hold an all-equine field day, from 9 a.m. to 3 p.m. Saturday, June 27 on UK's Maine Chance Equine Campus. Admission is free, and lunch will be available for purchase from the Fayette County Cattlemen's Association and the Fayette County 4-H and FFA Livestock Club.
The field day is designed for horse owners, farm owners, farm managers and equine veterinarians. Participants are encouraged to come prepared with a long list of questions for the experts.
"We are really excited to showcase the practical application of research being conducted at UK. Our researchers are known nationally and internationally for their work, and now we have a chance to highlight what they have been doing to a local audience," said Ray Smith, field day chair and researcher in the College of Agriculture's Department of Plant and Soil Sciences.
Hands-on workshops include managing problem weeds on horse farms, degenerative joint disease, evaluating a feeding program, vaccination and infectious disease control, making sure a deworming program is working, rotational grazing, normal development of an equine pregnancy, economic considerations on a horse farm and how to prevent muddy pastures and provide clean water.
Participants will have the opportunity to visit a trade fair featuring field day sponsors, College of Agriculture departments and programs and Equine Initiative working groups.
The title sponsor for the field day is Intervet Schering Plough. Other major sponsors include the American Saddlebred Horse Association, Boehringer Ingelheim Vetmedica Inc., Brumfield Hay and Grain, Central Equipment, Darley America –Jonabell Farm, Dow Agrosciences, Fort Dodge Animal Health, Franklin-Williams, Hagyard Equine Medical Center, John Wiley Books, Kentucky Buying Cooperative (KBC), Keeneland, Kentucky Equine Education Project (KEEP), Kentucky Equine Research, Kentucky Thoroughbred Association-Kentucky Thoroughbred Owners and Breeders (KTA-KTOB), McCauley Brothers, Neogen, The Pond Lady, Rood and Riddle Equine Hospital, Saunders-Mosbey-Churchill-Elsevier and Sun Coast Bedding.
Please visit www.ag.uky.edu/equine/index.php?p=198 to find out more about the event.