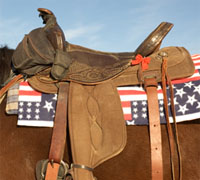 Veterans and currently serving members of the United States military, and their immediate families, are invited to attend the Friday and Saturday sessions of Super Ride VII: The 2009 United States Equestrian Drill Championship (USEDC). Admission to the event will be free to military families – as special guests of the event's organizers.
The competition will run June 24 – 27, at the Texas Rose Horse Park and will bring together top mounted color guard and drill team units from throughout the United States. All members of the armed forces are encouraged to attend in uniform!
Featured events at Super Ride VII include the Second USEDC Ride of Champions on Friday evening, June 26th, and the USEDC National Open Drill Championship on Saturday evening, June 27th. A musical ride by the 2009 USEDC Youth All Star Team will showcase the skills of young riders from across the nation during the Saturday evening performance. Special recognition will be given to the service branch with the best representation on Friday (June 26th ), and on Saturday (June 27th).
The USEDC Ride of Champions is open to USEDC Open Division National Champions, Reserve Champions and Second Runners-up from previous Super Ride competitions. The winning team will be awarded the prestigious SportsQuest Cup – a perpetual trophy symbolic of excellence in all facets of equitation and drill team competition.
In 2008, both the USEDC National Open Drill Championship and the SportsQuest Cup were captured by the 2007 and 2008 National Champion Canadian Valley Rangerettes of Mustang, Oklahoma.
On Friday evening June 26, a special screening of "The Spirit of Aachen", a recently completed documentary for television, will be held in the VIP area, above the main arena. The presentation will begin at approximately 8:00 pm. – immediately following the 2009 USEDC Ride of Champions. The one-hour program presents a compelling "behind-the-scenes" look at the annual CHIO Aachen – World Equestrian Festival in Germany. Aachen has been a major fixture on the international equestrian calendar for over one hundred years. Aachen hosted the FEI World Equestrian Games in 2006.
General Admission to "The Spirit of Aachen" is $10.00. A limited number of complimentary 'Early Bird' passes are available on-line, on a first come first served basis. Please visit: /redirect.php?location=http%3a%2f%2fwww.eventbrite.com%2fevent%2f306390422
Block seating for veterans groups, military units and other organizations.
Practice your own drill team patterns.