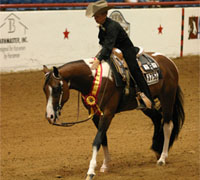 Photo by APHA/Robert Owens
The Summer World Championship Paint Horse Show has undergone a facelift for 2009. This year's show, taking place June 24 through July 4 at the Will Rogers Memorial Center, features an expanded class list highlighting American Paint Horse Association (APHA) youth competitors.
The 2009 APHA Summer World Show will host a full slate of Novice Youth and Youth events with select Novice Amateur, Amateur and Open events. Along with exciting horse show action, the event will offer a variety of family-friendly events for all to enjoy.
New this year, APHA will host two World Shows – one in the summer and one in the fall – to showcase its most talented horses and exhibitors. The Summer World Show features a full schedule of Youth events followed by a few select Amateur and Open classes. The Amateur and Open classes include Cutting, Ranch Sorting, Reining, Roping, Working Cow Horse and Team Penning.
Earning a prestigious World Championship means the best Paint Horse and rider team in the world will be recognized for a particular event. An estimated 600 horses will be competing in more than 100 events for prizes and cash payouts totaling over $300,000.
In addition to World Show classes, several other noteworthy events will be spread throughout the show's 11-day span.
Ah, to be an AjPHA member
In order to cater to the large number of youth present this year, the American Junior Paint Horse Association (AjPHA) has scheduled a number of fun and entertaining activities into the Summer World Show's program. The youth association plans to kick things off right by hosting a party and dance on June 26. The dance gives youth the chance to socialize and build relationships with other youth members from across the country.
The Youth Judging Contest provides another venue for youth competition at the Summer World Show. Young AjPHA, 4-H and Future Farmers of America (FFA) horse-judgers gather June 27 for one of the most anticipated events of the year. High point teams in each age division will be awarded Gist belt buckles, and high point individuals will receive a $500 award sponsored by Hart Trailers.
Younger AjPHA members will not be at a loss of events to participate in either. A stick-horse competition for youth age 7 and under will take place on June 26 in the midst of regular classes. The competitors will be judged on their abilities to correctly handle a Paint stick horse at different gaits, with costume design also being taken into consideration.
A show during the show
Non-AjPHA members are being given an opportunity to join in the fun at this year's show, too. "Paint for a Day" is will make its inaugural debut on June 28 at 10 a.m. as a separate all-breed show during the Summer World Show.
Sixteen classes are being offered to youth exhibitors ages 18 and under, along with a free AjPHA membership and Paint Alternative Competition enrollment for signing up. The event gives local youth who may not own a Paint Horse the opportunity to be involved in a prestigious World Show competition and learn about the Paint Horse community. A concept called Zing the Bling, which discourages any saddle silver or "blingy" show shirts, also is in effect to keep the event as low-key and unintimidating as possible.
Healing through horses
The American Paint Horse Foundation (APHF) will present its premier Freedom Challenge on June 2 and 3 at the conclusion of the days' World Show classes. This therapeutic riding event for youth will feature local therapeutic centers and their riders in competition aboard American Paint Horses.
The Association is excited to highlight these very special competitors through various judged rail classes and freestyle demonstrations. In the freestyle division, exhibitors are given free rein to display anything they have learned and worked on at their centers. The event is designed to demonstrate the versatility of the Paint Horse in uses beyond recreation and showing.
Over $35,000 has been raised by APHA and its Foundation to support therapeutic riding centers and programs, and the Foundation now is awarding that money back to the worthy cause. Each participating center will receive a $500 grant to help with its program and show-related expenses. APHF is dedicated to helping the disabled heal through the power of horses and plans to continue such support in the future.
Sending the show out with a bang
The Cowboy Mounted Shooting Association is helping close the Summer World Show with a fast-paced, exciting demonstration of their sport on July 3.
To sweeten the deal even further, AjPHA member and Youth World Champion Peyton Weldon will be joining them. Weldon, of Magnolia, Texas, and her Paint Horse Skip My Zipper have taken on the challenge of learning the art of cowboy mounted shooting in only 90 days. The team will display their talents that night for the first time.
Mounted shooting is the fastest growing equestrian sport in the nation and is similar to barrel racing with balloons in between the barrels. The rider shoots blank black-powder cartridges from .45-caliber pistols at the balloons and is scored on accuracy and time.
For more information about the Summer World Show, including entry details, results, event and class schedules, and a list of competitors, visit aphaworldshow.com or call APHA at (817) 834-2742.