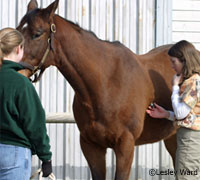 Thirty-three students studying equine veterinary medicine in 28 American states, four Canadian provinces and one school in the West Indies will continue their education with a financial boost from the Winner's Circle Scholarship Program.
Under a partnership of The Race For Education, the American Association of Equine Practitioners (AAEP) Foundation and Platinum Performance started in 2007, scholarship awards ranging from $1,500 to $5,000 will be given to the deserving veterinary students.
Created to help offset the escalating cost of veterinary education and minimize the students' debt load at graduation by providing financial assistance in their fourth year of veterinary school, the Winner's Circle Scholarship Program rewards leadership and participation in student chapters of the AAEP. Ultimately, the program is designed to encourage students who intend to practice equine veterinary medicine.
"When we help future equine veterinarians reach their goals, we are helping to protect the health and welfare of the horse for decades to come," said Dr. Wayne McIlwraith, AAEP Foundation Chairman. "The Foundation is delighted to collaborate with such outstanding organizations as The Race For Education and Platinum Performance to support the best and the brightest in their pursuit of a rewarding career as an equine veterinarian."
The Winner's Circle program is offered annually and promoted at the Opportunities in Equine Practice Seminar at Rood and Riddle in September and the AAEP convention each year in December.
"The selection committee has chosen a diverse and great group of students with specializations in theriogenology, lameness, racetrack medicine, reproduction and just about any other aspect of equine medicine one could come up with. I am proud of all of the students, as well as our industry partners that make this possible" said Elisabeth Jensen, President of The Race for Education.
The scholarships are just some of those approved this year by the board of directors of The Race for Education, which has now awarded more than $2.5 million in scholarship assistance in the seven years since it was founded. The Race For Education directs its efforts outside of the Winner's Circle program to support undergraduate students who have family members connected to the equine industry or who want to pursue careers with horses.
More information about The Race For Education is available at www.raceforeducation.org or at 859-252-8648.