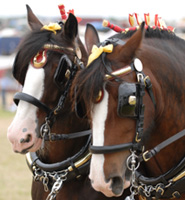 From July 3rd through the 12th, fans of rodeo and western life come together in Calgary, Alberta for the historic Calgary Stampede.
The first Calgary Stampede was held in 1912 and was designed to be greater than the famous Buffalo Bill's Wild West Extravaganza. The show was a success, and in 1923, it merged with the Calgary Exhibition and added chuckwagon races for the first time along with rodeo events and agricultural exhibitions. This also marked the first year that the Stampede would be an annual event.
A somewhat modernized version of the chuckwagon race still exists in today's Stampede, along with many other equestrian events. A parade through downtown Calgary, featuring a wide array of equestrian entries, kicks off the 10-day event. Rodeo events occur twice daily with one afternoon and one evening performance.
Competitions for draft horses, mini horses and working cow horses run throughout the Stampede. Daily light horse presentations give Stampede attendees the chance to see a variety of breeds and learn more about horse ownership.
For more information, visit CalgaryStampede.com.