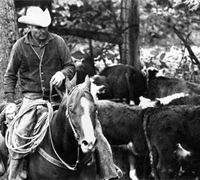 Kenneth Jackson. Photo courtesy NCHA.
On June 20, the National Cutting Horse Association inducted five new members into its Members Hall of Fame during a banquet hosted at the Inverness Hotel and Resort in Denver, Colo.
The NCHA Members Hall of Fame was established to recognize those individuals who have made outstanding and unusual contributions to the NCHA basic purpose, which is the public exhibition and constant promotion of the Cutting Horse. The NCHA proudly credits these individuals for exhibiting a high moral character, good sportsmanship, fairness, and an exemplary contribution of time, effort and interest in NCHA.
Murlene Mowery
The Mowery name is a familiar one in the cutting horse industry. Murlene's husband, Bill, trained cutting horses, and their sons, Rick and Mike, followed in his footsteps. Mike is also a former NCHA President. What you might not realize is that Murlene Mowery has dedicated her life to the cutting horse industry as well.
Jim Ware of Western Bloodstock, a premier cutting horse sales company, nominated Mowery for the Hall of Fame. He said that Mowery served as show secretary and manager for numerous NCHA affiliates and included that several of her methods serve as guidelines and accepted procedures throughout the industry today.
"Mrs. Mowery was an integral part of the NCHA staff during some critical times for the association. She has tirelessly devoted a lifetime to the betterment of the NCHA. Her unrelenting devotion to cutting is to be admired and honored," Ware added.
She secretaried various shows for many years before she was offered a job in the show department at NCHA. One of her earliest projects was to straighten out horse names and records.
"We found the same horse under two or three different barn names. That's when we started verifying with AQHA on registered Quarter Horses," recalled Mowery.
Mowery's experience as a secretary also played a vital role in developing a handbook for new secretaries.
"To have a secretary's manual and get the information out to them helps a lot, because some of the secretaries had no idea what was expected on this end. They were just used to running their own shows," Mowery commented. "They've all kind of fallen into it and know now what's expected and what needs to be done.
"When I first started (at NCHA) it was just part time. I think after one month it became full time," said Mowery, who is currently on medical leave but plans to return to work as soon as her doctor allows.
Greg Welch
Greg Welch, the son of legendary cutter Buster Welch, was a champion in his own right, demonstrating that he could haul for year-end titles as well as win major aged events.
More than just another showman, however, Welch was a much loved supporter of young cutters and served as a positive force in the lives of many youth members. Because of his dedication to youth, his name was added to the Greg & Whitney Welch Memorial Sportsmanship Award following his death on July 4, 2004. The award was established in 2000 in honor of Greg's daughter, Whitney, who was killed by a drunk driver in 1998.
Born in 1952, Welch rodeoed before deciding to train cutting horses for a living. It was a decision that resulted in a successful career that saw Welch ride the earners of more than $3.8 million.
Welch is one of a handful of trainers to win both the NCHA Futurity and the NCHA Open World Championship.
Welch won the 1980 NCHA Open World Championship with Tenino San. In 1986 he was Reserve World Champion on Haidas Little Pep. He won the 1991 NCHA Open Futurity and 1992 NCHA Open Derby on Little Tenina, and went on with that mare to break the record for aggregate points at the NCHA World Finals. Because of his accomplishments, Welch was inducted into the NCHA Riders Hall of Fame during the 1990 NCHA Futurity.
He served as NCHA President in 2002-03, as the association expanded into a new headquarters building and laid the foundation for a revamped World Finals format. He is also a member of the Texas Cowboy Hall of Fame.
Chubby Turner, current NCHA President, nominated Welch for the Members Hall of Fame.
"Greg was responsible for many new members by putting on many free clinics. He was a great ambassador of cutting. Greg loved children and never left a cutting before the youth class was over," Turner added.
Mel Shearin
Born in Farmington, Miss., in 1930, Shearin entered the workforce at the age of 12. Although he spent much of his time farming, his dreams were of being a cowboy. Following a tour of duty in the Korean War, during which he was awarded the United Nations Service Medal and the Purple Heart, Shearin returned to his first love—horses.
He worked for Adams Milk, driving a six-pony hitch in local events, before striking out on his own as a trainer in the late 1950s. He met and married Irma Smith in 1956. The couple eventually had four children—Lisa, Louis, Larry and Linda.
By the mid 1960's, Shearin was making a name for himself with horses such as Gold Tender, who won the Kansas City American Royal, one of the largest cuttings in the nation at that time. As fate would have it, a reporter for Sports Illustrated was on hand. Shearin's photo riding Gold Tender ran on one full page in the October 10, 1966 issue of Sports Illustrated.
As Shearin's children grew up, Shearin found himself focusing his training efforts on youth and amateur cutters. Shearin's trainees included six youth world champions and another 10 Top 10 finishers, including his son, Larry.
All the while, Shearin continued training and exhibiting top open horses. He won the Open Cutting at the All American Quarter Horse Congress in 1971, the Denver Nationals in 1979 and '80, and the Kansas and Missouri Maturity in 1982.
David Behen, an NCHA lifetime member said that from 1965 to 1995, Mel trained and showed many of the top horses in the Midwest.
"Where Mel's efforts were really concentrated was in the area of Youth and Amateur cutting. Out of Mel's barn came Top 10 Open horses, Top 10 Non-Pro horses, six youth world champions, and trailers full of horses that amateurs could learn and compete on. He was Mr. Cutting Horse in the Midwest," said Behen.
Along with four other people, Shearin helped start the Eastern Missouri Cutting Horse Association in 1971, which was the sponsoring organization for the All American Amateur Cutting Horse Tournament held every fall for nearly 30 years.
At age 78, Shearin still rides his horses and looks after his cattle with passion and pride.
Pat Earnheart
The Hernando, Miss., resident started out in the sport when it was in its infancy, back in the 1960s when horses did it all regardless of breeding.
Earnheart joined the Army after high school, but it was back in the saddle when he returned, training horses at 19.
Earnheart shaped a career that was devoted to cutting horses and the NCHA. He learned from and competed against horsemen like Buster Welch; lived through early bumps in the association's history; and watched horses become refined while judges improved.
He is modest in recalling his own successes, even though he proved himself over and again at aged events. In the '70s it was Colonel Leo Bar; the early '80s saw him win with The Lady Doc. Earnheart showed Dual Pep in the late '80s, making numerous appearances at major NCHA events, including a win at the 1990 5-Year-Old Classic.
Cutting was a love shared with Earnheart's wife, Teresa, and daughter, Kelle. Appropriately, the couple met at a cutting and were married in 1980.
Earnheart was inducted into the Riders Hall of Fame in 1994; in 2008 Kelle was inducted into the Non-Pro Hall of Fame.
Earnheart has managed aged events in Mississippi and Louisiana. He has made countless friends from his years in the business and role as trainer, mentor and competitor.
Kenneth Jackson
Kenneth Jackson, of Galatia, Ill., was an early leader in promoting all phases of the cutting horse industry. He was a trainer, judge, teacher and mentor who was responsible for helping many people get started in the sport.
In 1958, he built one of the first indoor riding arenas in the country. Jackson's J-6 Ranch became a gathering place for cutters of all ages and abilities.
One of the founders of the Illinois Cutting Horse Association, Jackson served as either secretary or president for at least 25 years and remained active after that. He was also an NCHA Area Director and was involved with the American Quarter Horse Association.
Scott Page, President of the Illinois Cutting Horse Association, said that Jackson provided critical leadership to the association for over 40 years.
"Kenneth was never an individual who wanted to seek the limelight. Because of that, he was always willing to share his skills with others and did his best to help them succeed. Cutting was his passion, and he shared that with as many people as he could throughout his life," Page added.
A recognized judge with AQHA and NCHA, Jackson was known for his fairness and honesty. At one point in the 1980s, he judged more AQHA shows than anyone else in the country. He was also one of the first people to judge internationally.
Whether it was in the judge's stand or in the saddle, Jackson was well respected among his peers. One of the best horses he rode was King Skeet, who went on to be named World Champion in 1970 under Shorty Freeman.
Each fall, the Kenneth Jackson Memorial Cutting is held in his honor. Jackson passed away on August 4, 1995.
The Fort Worth-based NCHA represents more than 21,000 people and oversees more than 2,200 NCHA-approved shows with more than $43 million in total prize money awarded annually. For more information please visit www.nchacutting.com
Read about the NCHA's current world champions.