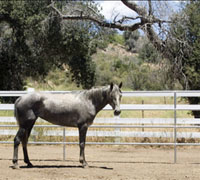 The abused filly was transported over the weekend to her new home at Horses of Tir Na Nog sanctuary where she is recovering under the watchful care of staff and volunteers. Photo by Tess Davis, Hawk's Journey Photography
The equine rescue community and horse lovers across America were outraged last week by a horrible act of cruelty that was inflicted on a 2 yr old domestic filly in Nevada. The Nevada Department of Agriculture found the terrified dappled grey filly wandering alone near Round Mountain, a remote mining community about 235 miles southeast of Reno. Dumping her in the desert to fend for herself was not the worst of it though. In an effort to make sure the filly could not be traced to them, her former owner cut a 6 x 8 section out of the horse's flesh to remove the brand.
Officials at the Department of Agriculture took the horse to a holding facility where she was treated by a vet and contacted Return to Freedom, a wild horse sanctuary in California, who agreed to help the mare. She is safely recovering in her new home now and will be well cared for during the rest of her life.
With the horse safe, the national community is turning its attention to finding the person responsible for this brutal act and bringing them to justice. Humane Society of the United States announced that they were offering a $2500 reward for information leading to the conviction of the perpetrator. Today, the ASPCA stepped forward to match those funds, bringing the total reward to $5000. Questions about the reward, or information regarding this case, should be directed to the Nevada Dept. of Agriculture at (775) 738-8076.
"We applaud the ASPCA and HSUS for their role in helping law enforcement officials bring justice to the person responsible for this, and we applaud officials at the Dept. of Agriculture for acting swiftly to save this mare. Had she gone to auction in this economy, the mare would certainly have been scooped up by the slaughter industry's kill buyers and taken to Mexico to endure a grisly death." Says Return to Freedom Founder Neda DeMayo.
"It is ironic that this mare was spared the nightmare of slaughter and yet pro slaughter advocates are using her story to make the case to reopen U.S. based slaughter houses, claiming that she was abandoned and brutally tortured because horse slaughter was outlawed in the U.S.," said ASPCA president Ed Sayres. "Abandoned horses are the result of a struggling economy, and the unscrupulous overbreeding of horses…around the country. The numbers of dogs and cats being surrendered to shelters increases when the economy fails as well but we don't blame that on a lack of dog slaughtering facilities. The real solution involves educating breeders and horse owners about responsible horse husbandry, not using slaughter to enable the overbreeding of horses to continue."