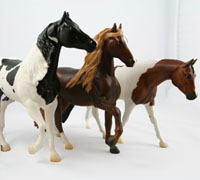 Today through Sunday, horse enthusiasts and model horse collectors will enjoy trade shows, competitions and demonstrations during Breyer Animal Creation's 20th annual Breyerfest.
Model horse enthusiasts will find new and rare models to add to their collections at the swap meet and silent auction. The Artisans' Gallery, which takes place after hours at the Holiday Inn North, gives artists the opportunity to show off their customized Breyer creations. Model horse competitions run on Friday and Saturday and will be held in the Horse Park's brand new indoor arena. Free seminars and a hobby information booth are available for newcomers to the world of model horse collecting and competition.
Additionally, Breyer has several exclusive models that will be available only to three-day ticket holders and will only be sold at Breyerfest at certain times.
Breyerfest attendees have the opportunity to meet several equine and equestrian celebrities during the course of the celebration as well. Champion reiner Stacy Westfall and her mare Whizards Baby Doll ("Roxy") headline the equestrian activities. Westfall will be available for autographs and collectors can pick up their own model version of Roxy. Karen and Tommie Turvey, the "Equine Extremists" will perform equestrian stunts with the Quarter Horse Pokerjoe. Breyerfest holds many other live equine demonstrations. For a detailed schedule, see breyerhorses.com/breyerfest.
Read more about the activities at Breyerfest 2009 >>