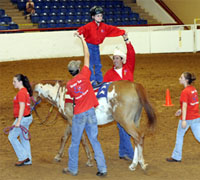 The American Paint Horse Foundation kicked off its inaugural "Freedom Challenge" at the World Championship Paint Horse Show in Fort Worth this summer. A total of 32 riders, 25 horses and dozens of volunteers demonstrated how horseback-riding therapy helps improve lives through the healing power of horses. Photo by Abby Wilder/APHA
The American Paint Horse Foundation made history this summer during the World Championship Paint Horse Show at the Will Rogers Memorial Center in Fort Worth, Texas, when the non-profit charitable organization hosted its first-ever therapeutic riding event – the "Freedom Challenge."
The Foundation fielded 63 entries on July 2 and 3, when a total of 32 riders and 25 horses from seven Texas-area therapeutic riding centers were in the World Show spotlight. Three of the entries were logged when the Foundation granted a wish for a youngster and his two sisters in conjunction with the Make A Wish Foundation. They were able to ride horses and participate in their first horse show.
Classes for all exhibitors included free-style exhibitions in which participants displayed their riding abilities four at a time in the arena, while a therapeutic riding center representative described their maneuvers. The exhibitors' talents ranged from Western and English mounted demonstrations to in-hand Showmanship and physical exercise regimens. The riders were also invited back for Western Pleasure and English Equitation rail classes, where they were asked to walk, jog, back-up and reverse directions on their horses.
All the riders were exceptional in their abilities and earned special Paint Horse trophies from the Foundation.
In addition to hosting its first therapeutic riding event, the Foundation also established a precedent by awarding its first therapeutic riding grants. Each of the participating centers received a $500 check from the Foundation to continue their outstanding work in helping children and adults rehabilitate through the healing power of horses.
Participating Texas-area centers included:
All-Star Equestrian Foundation of Mansfield
Equest Therapeutic Riding Center of Dallas
Stable Strides of Flower Mound
Riding Unlimited of Ponder
Rocky Top Therapy Center of Keller
Spirit Horse Therapeutic Center of Corinth
Whispers of Hope of Wichita Falls.
Many of the participating riders use horseback riding on a regular basis to overcome a wide range of challenges. Specific challenges faced by riders at the event included cerebral palsy, epilepsy, stroke, Down's syndrome, autism, spina bifida, paralysis, physical injuries, brain trauma and more.
Regarding the horses participating, many were retired show horses. Although some may have aged or lost a step in the competitive arena, they proved their value by serving a higher calling – to help children rehabilitate.
Honorary judges for the event included some of the many supporters of the Foundation's work. There to present special trophies to the riders were:
Ann Alexander, of the Fort Worth Business Press;
Amy Andresen, of the Barn at Cedar Hill and Foundation Filly Trainer;
Jim Austin, American Paint Horse Foundation Board of Directors and CEO National Multicultural Western Heritage Museum;
Matt Blevins, of Blevins Auction Services;
Vinny Circelli, attorney with Haynes and Boone Law Firm;
John Corbin, APHA President;
Banks Dishmon, Publisher of the Fort Worth Business Press;
Floyd Danley, of Ford Show Horses;
Anthony Drake, of Wal-Mart and its McCart Avenue store;
Kevin Hardcastle, American Paint Horse Foundation Therapeutic Riding Committee Chairman and Oklahoma Paint Horse Club president;
Scot Jackson, APHA Executive Committee Member;
Don Manuello, veteran APHA ring steward and therapeutic riding supporter;
Mr. Bat Masterson, aka Jerry Eastman;
Pat Mullins, American Paint Horse Foundation Board of Directors and Markel Insurance representative;
Diane Paris, APHA past president and Markel Insurance representative.
Bob Ray Sanders, vice president and columnist with the Fort Worth Star-Telegram newspaper;
Ron Shelly, American Paint Horse Foundation Board of Directors.
The American Paint Horse Foundation will continue its therapeutic riding support program to improve lives through interaction with horses. In a little over a year, the Foundation has raised over $35,000 in its newly established therapeutic riding initiative to help centers and individuals.
The next therapeutic riding demonstration will involve a dinner, a benefit auction and riding demonstration on Oct. 1, 2009, at Bell Mountain Stables in Castle Rock, Colo., during APHA's Annual Convention. Haynes and Boone LLP, an international law firm, and Ford Farms of Las Vegas, Nev., were the first to step up with a $500 donation each to support the event.
For details on sponsoring or attending the October event or to help the Foundation's Therapeutic Riding fund grow, contact:
Jerry Circelli, Foundation Director
(817) 834-2742
jcircelli@apha.com