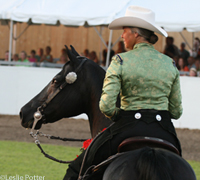 Every year in July, the top Morgan show and sport horses from around the country gather in Northampton, Massachusetts for one of the largest Morgan horse shows in the world. The New England Morgan Horse Show has been a destination for breed enthusiasts since the early twentieth century and celebrates its 70th anniversary this year.
Classes offered at New England represent the diverse range of sports in which the Morgan breed excels. Hunter and Jumper classes run at the beginning of the week and dressage classes take place from Wednesday through the end of the show on Saturday. Riders competing in both jumpers and dressage can enter the two-phase event as well. Carriage rings run throughout the week with classes for obstacle driving, driven dressage and reinsmanship for all ages. High score awards are given at the end of the week for drivers who compete in all phases of the carriage division.
The majority of the show classes are held in the grandstand arena. Morgans and their riders compete in a wide variety of classes including western, hunter and English (saddle seat) pleasure, park, driving and equitation. NEMHS draws the top competitors in all divisions, giving spectators a chance to see past, present and future world champions of the breed compete in a friendly and traditional horse show setting.
In addition to the competition, NEMHS is celebrating 70 years with several trainers and owners of historically significant Morgan horses and farms giving presentations on their experiences throughout the week. Exhibitors and attendees are also invited to a Thursday evening celebration of the show's history, with the unveiling of A Horse to Remember, a film recognizing some of the horses that have been a part of the show's long history.
For those unable to travel to Massachusetts, the show will be broadcast live online at MorganHorseVideos.com in a pay-per-view format. The broadcast will be available for the entire duration of the show, which runs July 19-25.
Get to know Morgan horses with a free riding lesson >>