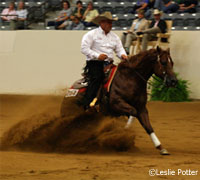 Shawn Flarida and Smart Spook led the United States team to a first place finish. Photo by Leslie Potter.
With a great sense of anticipation, Team USA's Aaron Ralston made history as he entered the ring as the first athlete ever to compete in the Kentucky Horse Park's new indoor arena in Kentucky Cup Reining, the first test event for the 2010 Alltech FEI World Equestrian Games.
"I really didn't realize it was happening until afterwards, and then it opened my eyes and it really started to sink in. To be involved in something so big and special as these test events for the 2010 Alltech FEI World Equestrian Games and to be on the team with these athletes is so special. It's all bigger than just me. It's a great honor and it's very humbling," said Ralston, 32, of Silt, CO, winner of team Gold and individual Bronze Medals at the 2006 World Equestrian Games.
Kentucky Cup Reining, a CRI4* competition officially sanctioned by the International Equestrian Federation (FEI), featured teams from Canada, Mexico, and the United States. The U.S. finished first with a team score of 659.50, followed by Canada with 641.00 and Mexico with 631.50. The Individual Final will be held on Thursday, July 23 at 7:30 p.m.
For the test event, Team USA fielded a seasoned team featuring four WEG Gold Medalists. They were led to the win by Shawn Flarida, 40, of Springfield, OH, double Gold Medalist in reining's WEG debut in 2002. Flarida received a score of 370.00 from the five-judge panel for his ride on Smart Spook, an 8-year-old, sorrel AQHA stallion owned by Rosanne Sternberg of Aubrey, TX.
Also turning in stellar performances for the winning U.S. team were Ralston, who scored 354.00 on Double My Whiskey, a 6-year-old, Quarter Horse stallion owned by Waggoner Estate of Vernon, TX; his 2006 WEG Gold Medal teammate Dell Hendricks of Tioga, TX, who scored 367.00 on Starbucks Sidekick, a 9-year-old, Quarter Horse, stallion owned by Adair Reiners, LLC; and Tom McCutcheon of Aubrey, TX, winner of team Gold and individual Silver Medals at the 2002 WEG, who scored 362.50 on Darlins Not Painted, a 7-year-old, American Paint Horse mare owned by Randy Paul of Scottsdale, AZ.
While pleased with his team's performance, Team USA chef d'equipe Jeff Petska pointed out that the team selected for next year's Games will face a formidable challenge. "Getting ready for a World Equestrian Games is a very involved process and the teams get better every year. It is a sport that began and grew here, but now that advantage is dwindling as the sport is becoming more international. We're talking to riders and looking for horses because everyone wants to field the best athletes they can. As the sport grows the level of athleticism required for both horses and riders continues to get higher and higher."
Team USA: Shawn Flarida, Aaron Ralston, Tom McCutcheon, and Dell Hendricks. Photo by Leslie Potter
About Reining
Reining was added to the FEI as a discipline in 2000 and was featured for the first time in 2002 at the FEI World Equestrian Games in Jerez, Spain. Huge crowds for the Reining competitions at the 2006 Games in Aachen, Germany launched the discipline and its athletes into fame, with sold-out performances and loud, fanatical crowds.
As the 2010 Alltech FEI World Equestrian Games come to Kentucky, the sport of Reining is sure to enjoy a sort of "homecoming" in the US, as the only western discipline recognized by the FEI. Plans are well under way to feature Reining in new and exciting ways in 2010, including a newly approved schedule format – allowing for more public sessions of the discipline.
About the Alltech FEI World Equestrian Games:
The Alltech FEI World Equestrian Games are the world championships of eight equestrian disciplines recognized by the Fédération Equestre Internationale (FEI). The Games are held every four years and this will be the first occurrence in the United States.
The Games will be broadcast on NBC Sports, which has marked the largest commitment to network coverage of equestrian sport in U.S. television history. The 2010 Games are expected to have a statewide economic impact of $150 million, and current sponsors include Alltech, Rolex, John Deere, Ariat International, Inc. and Rood and Riddle Equine Hospital.
Further information on the 2010 Alltech FEI World Equestrian Games, including full results of Kentucky Cup Reining, is available on line at www.alltechfeigames.com.