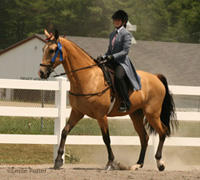 The Tennessee Walking Horse Breeders and Exhibitors Association (TWHBEA) World Versatility Show takes place this weekend at the Miller Coliseum in Murfreesboro, Tenn.
The show is designed for owners of flat-shod
Tennessee Walkers
to compete in a variety of show and sport divisions beyond those typically offered at walking horse shows. Classes include basic reining, intro dressage, trail, jumping, driving, equitation and speed events.
Click here for a full schedule of classes.
For the first time this year, versatility sweepstakes classes will be run concurrently with the World Show classes. The sweepstakes classes are designed for young horses between the ages of two and five and will highlight potential divisions for a TWH versatility futurity that is currently in the works.
The World Versatility Show leads into the Walking Horse Owners Association International Grand Championship Show, also at the Miller Coliseum. The International runs July 27-31 and features classes similar to the Versatility show as well as traditional Walking Horse park and pleasure classes.