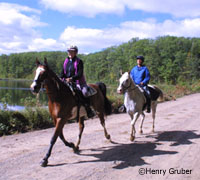 North American endurance riders are taking on the United States' most competitive endurance race this weekend. The Western States Trail Ride, more commonly known as the Tevis Cup, is a 100-mile race in California that has been run since 1955. The ride was canceled in 2008 due to wildfires.
The challenging, mountainous trail begins at Lake Tahoe in and ends at the Gold County Fairgrounds in Auburn, California. To successfully complete the ride, teams must finish within 24 hours and the horse must be judged "fit to continue" at the final vet check. All horse and rider teams that successfully complete the ride earn a Completion Award. The team that does it in the shortest time wins the Tevis Cup. Through the Cup's history, winning times have ranged from 11-16 hours, and nearly all winning horses have been
Arabians
.
Of the top ten finishers, the horse judged to be in best physical condition at the end of the race is awarded the Haggin Cup. Junior riders who successfully complete the ride are awarded the Josephine Stedem Scripps Foundation Cup.
This year, approximately 172 horse and rider teams have signed up to compete. The majority of the horses entered are Arabians and Arab-crosses. However, according to the Cup's official website, at least a dozen breeds are participating in the event, including mules.
Though the majority of competitors are American, participating riders represent countries as far away as Australia and Japan. Men and women compete together, and six junior riders have signed up to ride this year as well.
Follow live coverage of this year's Tevis Cup on August 1st with the official webcast at www.teviscup.org/webcast/main.html