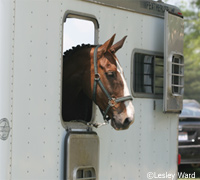 After several years of analyzing accidents involving horse trailers, USRider, the national provider of roadside emergency assistance for horse owners, has developed a checklist to help equestrians avoid accidents on the road.
"We believe you can never over-prepare for a trailering trip with your horse," said Mark Cole, managing member for USRider. "Even if you are only going to travel a short distance to a local event, an accident – or some other emergency – could occur, leaving you stuck on the highway unexpectedly for an extended period."
Through its Equestrian Motor Plan, USRider provides emergency roadside assistance and towing services, along with other travel-related benefits, to its Members in the lower 48 states as well as Canada and Alaska. With an annual fee comparable to that of other roadside assistance programs, USRider offers many services geared especially toward horse owners.
Working with Dr. Tomas Gimenez, retired professor of Animal and Veterinary Sciences at Clemson University, and Dr. Rebecca Gimenez, an animal physiologist and a primary instructor in technical large-animal emergency rescue, USRider has been gathering and analyzing data about horse trailer accidents for the last six years. From this data, Drs. Gimenez and USRider have gleaned some pertinent recommendations for preventing accidents and enhancing the safety of horses while traveling.
This information has been compiled in a handy Pre-Trip Checklist for Horse Trailers. The checklist is conveniently available to Smartphone users on USRider's mobile website. Simply access www.usrider.org from any Smartphone and the list is handily at your fingertips to check prior to each trip.
Items to check before starting a trip include:
Wheel bearings (Be sure to have bearings serviced annually, or 12,000 miles, regardless of mileage due to possible moisture buildup. It's also important to carry a spare wheel bearing set in case of premature failure.)
Tires (Look for dry rot, uneven tire wear, overall tire wear and damage. Be sure to replace tires every 3-5 years regardless of mileage).
Tire pressure (Don't forget to check spares and inside tire on dual wheels as well)
Hitch (Ensure that it is locked on the ball and that correct sized ball is being used.)
Safety cables/chains (Check to see that these are securely connected.)
Electrical connection (Make sure it's plugged in and secured.)
Breakaway system (Ensure that this is connected and secured as well.)
Emergency battery (Check to see that it's charged.)
Trailer lighting (Check lights for the brakes and turn signals, as well as running and perimeter lights).
Brake controller (Test to ensure that it's working properly.)
Trailer (Before loading horses, check the trailer for any hazards.)
Horses (Don't forget to put shipping boots and head bumpers on horses.)
Doors (Secure and latch all trailer doors. Place a snap hook or carabineer to prevent accidental opening.)
Headlights (For greater safety, drive with highlights on.)
Drive safely – allow greater braking distance, and travel at generally slower speeds.
Be sure to check the contents of their equine and human first aid kits. Any depleted and out-of-date items should be replaced. A list of recommended items for first aid kits is posted on the USRider website at www.usrider.org.
USRider advises horse owners NEVER to depend on others to hitch their trailer.
"The driver is ultimately responsible. Even if someone else actually does the hitching, the driver should always go behind them to double-check that the trailer is properly hitched." said Cole.
"Trailers that are properly hitched do not come unhitched. It is amazing how many trailers are sitting on a ball from tongue weight alone, but the hitch mechanism is not latched, or locked on the ball. Trailer accidents where the trailer comes loose from the trailer have a high incidence of human and equine fatalities. Worst of all, these kinds of incidents are highly avoidable," he added.
USRider also encourages horse owners to use ICE, which stands for In Case of Emergency. This initiative was designed to aid emergency responders in identifying victims and determining who needs to be notified. Implementing ICE is easy. Program your emergency contact information into your cellular phone and designate it with the acronym ICE.
Horse owners should be sure to store their emergency contact information in their tow vehicle. To facilitate this, USRider has developed an In Case of Emergency form and posted it online for horse owners to print out. Simply fill in the blanks and store the paper in the tow vehicle as well as in the trailer. Additional safety recommendations as well as a Power of Attorney form are posted on the USRider website at www.usrider.org.
To gather further accident information, USRider is continuing the trailer accident study. USRider encourages all horse owners, trainers, emergency responders, veterinarians and others who have somehow been involved in horse trailer incidents to participate in the survey. Visit www.usrider.org to download the survey form.
The information being collected includes type of transport, type of towing vehicle, number and type of horses in transport, cause of accident, results of accident, extent of human and equine injuries, and type of personnel involved in rescue.
Designed for horse owners, USRider provides nationwide roadside assistance and towing services along with other travel-related benefits to its members through the Equestrian Motor Plan. For more information, visit www.usrider.org online or call (800) 844-1409.
For more trailering tips, see HorseChannel's trailering checklist.