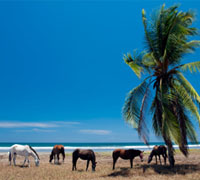 The Hawaii Horse Expo 2009, sponsored in part by Malama Lio, the Hawaii Horse Journal, is slated for August l4, 15 and l6 in Kailua-Kona, and at the Kahilu Theatre and adjacent grounds in Waimea on Hawaii's Big Island. Proceeds from the event benefit the Hawaii Island Humane Society's Horse Rescue Fund, which was established in 2008 to help abused and abandoned horses on the island.
This year's event will feature several outstanding equine experts in areas of behavior, equipment use, training techniques, and animal photography. Each will conduct workshops or demonstrations for Expo attendees.
"Desensitization and Sensitization" is Dr. Robert Miller's topic. This world-renowned equine behaviorist, author, and lecturer offers his expertise to help clarify the confusion and myths surrounding these particular training techniques. Dr. Miller's hands-on lecture and demonstration of "Safer Horsemanship" will apply techniques based on a lifetime of working with often-difficult equine patients. In another lecture presentation, "Are Bits Necessary?" Dr. Miller will help attendees understand more about this ancient tool, which we still use today.
Internationally recognized bit designer and bitting specialist Dale Myler will work with several horses as he demonstrates the progress each horse can make when a rider uses the right bit. Myler will also share the latest research connecting the horse's mouth and tongue pressure to the animal's overall state of health and learning ability.
Legendary Texas trainer Jack Brainard, who helped organize the National Reining Horse Association (NRHA), will be a featured clinician at the 2009 Horse Expo. Master of the flying lead change, Brainard has been working with horses for more than 50 years. He has won world titles in a variety of disciplines including reining, cutting, roping, and pleasure riding. At age 85, Brainard still trains his own two-year-olds. He will be teaching and demonstrating "Advanced Horsemanship Based on Cowboy Dressage."

Animal photographer Tim Flach completes the Expo's roster of experts. Flach travels to Hawaii from his home in London, England to share some of his award-winning photography. Equus, Flach's latest book—seven years in the making—documents and explores man's relationship to horses around the world and through the ages. His Hawaii Horse Expo presentation will include his findings relative to cultural evolutions and the horse. Flach is a compelling speaker, and his images are known to be powerful, informative, and sometimes disturbing.
Rick Lamb, popular host of RFD TV's "The Horse Show," returns to Expo 2009 as moderator for the program. Lamb has produced two television programs featuring his Big Island 2008 Expo experience.

The Royal Kona Resort in Kailua-Kona is sponsoring HIHS Horse Expo 2009 by offering a rate of $125 per night for Expo attendees. For an additional fee, attendees may ride with the clinicians to and from the Expo aboard the official HIHS Expo bus. Attendees staying at Royal Kona Resort will receive a complimentary invitation to Dr. Miller's lecture with video, "New Concepts in Imprint Training," scheduled for Friday afternoon, 3:00 pm, August l4 at the resort.

Tax-deductible tickets to HIHS Horse Expo 2009 start as low as $25.00 per day.

For more information and registration, visit www.HawaiiHorseExpo.com.