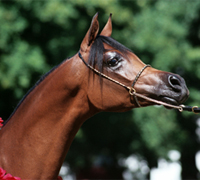 On August 17-22, 2009, the Canadian National Arabian and Half-Arabian Championship Horse Show (Canadian Nationals) will roll into Evraz Place in Regina, Sask. The show, in its 52nd year and affectionately known as "The Royal Red," is produced by the Arabian Horse Association (AHA) of Aurora, Colo. Exhibitors from 50 states and provinces attend the show and draw approximately 12,000 spectators, bringing an estimated $5.6 million (U.S. dollars) to the local economy.
Spectators can expect to see competition in a variety of classes, including English, western and hunter pleasure, show hack, pleasure driving, dressage, working hunter, jumper, trail, reining, working cow, park, sidesaddle, in hand and native costume.
In addition to horse show competition held in amateur, youth and open divisions, the event features a commercial trade show that is free to the public, offering a plethora of booths with items such as tack, equestrian gifts, clothing and jewelry and is open from 10 a.m. through 7 p.m. daily. Canadian Nationals will host daily entertainment in the commercial trade show area, including a buffet, internet café and a stage with local talent performing.
Admission to the Canadian Nationals is free. Events will run from approximately 8 a.m. through 10 p.m. most days in three sessions at 8 a.m., 1:00 p.m. and 7:00 p.m.