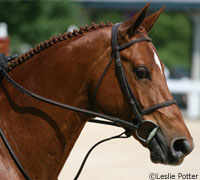 The end of summer brings a historic equestrian event to Bridgehampton, New York, on Long Island.
The Hampton Classic Horse Show has roots dating back to the early 1900s, but came into its current format in the 1970s. Today it is one of the largest and richest hunter/jumper competitions in the United States with more than 1,600 horses entered and offering over $600,000 in prize money. Many top riders, including past and future Olympians, compete at The Classic each summer. The show's location in The Hamptons, New York, a popular summer vacation spot, draws celebrities, business executives and other affluent guests. The Classic sports a 3,000 VIP tent for its esteemed spectators.
Classes typically run from 8:30 to 5:00 and feature top competition in the hunter, jumper, and hunt seat equitation divisions. The show's grand finale on Sunday, August 30, is the $250,000 Grand Prix, which is also a World Cup qualifier. Hillary Dobbs rode Corlett to the win at last year's Grand Prix. Dobbs is off to a promising start in this year's competition with a win in Sunday's $20,000 Nicolock Time Challenge aboard Marengo.
Tickets to the show are $10 per person or $20 per carload. Seniors attend free Tuesday through Thursday. Saturday is Kids' Day at The Classic, featuring pony rides, face painting, and other kid-friendly activities. Admission is free for children on that day.