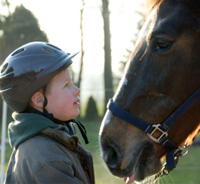 Students at Giant Steps CT participated for the first time in a horse show on Wednesday, July 22, 2009, at the Fairfield County Hunt Club in Westport, Connecticut. Giant Steps CT is a Connecticut State-approved private school in Southport, Connecticut for children, ages 3-21 years, who have been diagnosed with neurological impairments and/or Autism Spectrum Disorder (ASD).
Giant Steps established a therapeutic riding program in 2007 to provide equine assisted therapy to its students. The Fairfield County Hunt Club provides the use of its facility and volunteers. Funding for instructors and equipment is provided by the EQUUS Foundation and the Newman's Own Foundation.
"Our riding program has provided the opportunity for our students to work on many skills pertaining to their Individualized Education Plans such as fine motor, motor planning, and bilateral balance skills in a fun and hands on manner", said Clea Newman, Giant Steps Director of Development. "Additionally, we have found that the exposure to these gentle animals has been invaluable to our students in allowing them to form strong relationships which enable them to grow and improve their sense of self and self esteem."
The Centers for Disease Control and Prevention report that 1 of every 150 children born will be diagnosed with ASD, a complex neurobiological disorder that typically lasts throughout a person's lifetime. More children will be diagnosed with autism this year than with AIDS, diabetes and cancer combined. There is no one approach for working with autism because of the wide spectrum of characteristics and symptoms. A variety of therapies are utilized, including behavior modification, speech language therapy, vision therapy, sensory motor and sensory integration. All of these are addressed in therapeutic horseback riding.
The therapeutic riding program operates one day per week, year around, and provides three 1-hour classes. Safe and reliable horses for the program have been generously provided not only by The Fairfield County Hunt Club, but also by the Bridgeport Police Mounted Unit. Each class consists of 3 to 4 children, with each child accompanied by 3 volunteers (2 side walkers and a leader). Susan Weber, Program Director, and Mary Daly, are licensed Therapeutic Riding Instructors in accordance with NARHA's safety standards.
The children participate in a variety of activities and games that serve as physical, emotional and cognitive therapies. The students that have been in the riding program have made enormous progress not only in their riding skills, but in their sense of confidence and pride. Many of the students who were, at first, afraid to ride, now climb confidently into the saddle with no hesitation. Children who initially held on for dear life, now ride without a care in the world. And many of the children have formed close bonds with their assigned equine partners. Some of the riders who have trouble communicating with people, have no trouble connecting to their animals.
The program is always looking for volunteers, so if you're interested, please contact Susan Weber at susanweber2@yahoo.com. For additional information, please contact The EQUUS Foundation, Inc., at Tele: (203) 259-1550, E-Mail: equus@equusfoundation.org, website: www.equusfoundation.org.
About The EQUUS Foundation, Inc.
The EQUUS Foundation, Inc., established in August 2002, as a 501(c)(3) national charitable foundation, seeks to raise public awareness of the value of the horse in society through education and the awarding of grants to charities that use the horse to benefit the public, promote the health and welfare of horses, and elevate the equestrian sport as a whole.
Read more about horses helping humans.