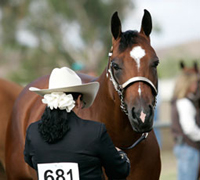 The 2009 Bayer Select World Championship Show for exhibitors of American Quarter Horses begins August 31 and continues through September 6 at the Amarillo National Center in Amarillo, Texas. Admission to the show is free. The Bayer Select World Show is the world's largest, single-breed horse show open exclusively to amateur exhibitors age 50 and older.
Select exhibitors will be competing in 41 classes for champion prize packages that include a custom-designed trophy, Montana Silversmiths belt buckle, Tex Tan or WeatherBeeta products, a Cripple Creek jacket and prize money.
Entries for the 2009 Bayer Select World Championship Show showed gains over 2008 numbers with 1,217 for 2009 compared to 1,167 for 2008. Ranch sorting has the largest number of entries with 89 teams slated to compete.
The Sooner Trailer Bayer Select All-Around Amateur Award goes to the top Select amateur exhibitor-and-horse team that earns the most points in three or more events in two categories during the Bayer Select World Show. The winner of this award receives a $25,000 gift certificate for a Sooner Trailer, an original Lisa Perry bronze, an embroidered WeatherBeeta horse blanket and rose bouquet. The Reserve All-Around Amateur receives a Tex Tan saddle, silver bowl and $2,500; while third- through fifth-place finishers each receive $1,000 courtesy of AQHA. The All-Around Amateur awards will be presented on Sunday, September 6.
All the latest information on Bayer Select, including the list of judges, qualifiers' handbook and schedule with preliminary working orders, can be found at AQHA.com.
The Bayer Select World Championship Show brings more than $2 million into the Amarillo economy. Local businesses such as restaurants and hotels feel a direct impact, but local residents also benefit from sales and hotel taxes generated from exhibitors, trainers and others attending the show.
If you can't be in Amarillo, don't miss any of the action. The American Quarter Horse Journal will be providing extensive online coverage including special feature stories, interviews and photos of the world champions and all the latest news from the show. Watch all the action in the arena through the Fort Dodge Webcam. A complete wrap-up of the show will be featured in the November issue of The American Quarter Horse Journal. America's Horse TV, AQHA's online television network, also will feature highlights from the Bayer Select. Be sure to visit americashorse.tv and check out all the channels and programs.
The Bayer Select World Championship Trade Show offers 32 unique vendors, featuring the finest in clothes, jewelry, saddles, trucks, trailers and AQHA merchandise. The trade show is free and is located in the Amarillo National Center concourse and outside to the east and south. The Trade Show opens each day at 8 a.m.
The Bayer Select World Championship Show is made possible by Bayer, B&W Trailer Hitches, Bank of America, Farnam, John Deere, Markel, Merial, Montana Silversmiths, Nutrena, SmartPak and Sooner.