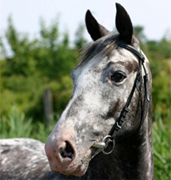 The Appaloosa Horse Club (ApHC) has joined forces with some of the equine industry's top brands to reward new and returning ApHC members who purchase their 2010 memberships by Dec. 1, 2009.
Signing up for an ApHC membership by Dec. 1 not only ensures receipt of the January issue of Appaloosa Journal, the 2009 World Championship Appaloosa Show coverage issue, but they also qualify for a random drawing to win one of many prizes totaling more than $10,000.
Prize sponsors include Appaloosa Member Advantage Program, Ariat, Cowboy Magic, Featherlite Trailers, Horse Spa Products, John Deere, Kathy's Show Equipment, Lone Star Barns, Montana Silversmiths, Moxie Equestrian, MyHorseForSale.com, Office Depot, Saddlebrook BarnCam, Schneider's Saddlery, Sherwin-Williams, S.R. Gold, Three Feathers Enterprises, Tioga Territory and Toshiba.
Names will be drawn Dec. 10, 2009, and winners will be notified by the end of business Dec. 11, 2009. Prizes may not be exchanged for cash and are non-transferable. Eligible memberships must be paid in full and include contact number, e-mail address and postal address.
Sign up at www.appaloosa.com.
The Appaloosa Horse Club (ApHC) was established in 1938 with a mission of preserving, promoting and enhancing the Appaloosa breed. The ApHC has since registered more than 670,000 Appaloosas, which are known for their distinctive color, intelligence and even temperament. True to their reputation as an extremely versatile breed, Appaloosas can be found in nearly every discipline including racing, endurance riding and serving as reliable family horses. The international breed registry is headquartered in Moscow, Idaho, the heart of the Palouse region—the Appaloosa breed's namesake and point of origin.
Read about the Appaloosa National Championship and Youth World Show.