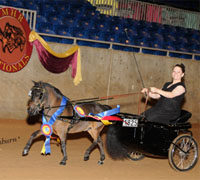 A 2008 AMHR National Champion takes a victory pass. Photo: Washburn Photography
Small equines from all across the country are preparing for a big event – the 2009 annual American Miniature Horse Registry (AMHR) National Championship Show. The show will determine the nation's top Miniature Horses and be held at the Expo Square Arena in Tulsa, Oklahoma, September 10 -19th.
"
Miniature Horses
are big fun for adults and children, so despite a tough economy the show committee is still expecting more than 5,000 entries," said Johnny Robb, AMHR Marketing Director. "The show is the highlight of the year and classes run in the day and evening. As in the past, it is free and spectators are welcome throughout the show."
The AMHR National Championship Show offers close to 300 classes for Miniature Horses to enter. Competitions in halter, driving, jumping, costume, youth classes and more stir the crowd as they cheer on their favorites. And with over $50,000 in cash and prizes in championship and futurity classes the atmosphere is one of high stakes and high spirits.
AMHR Miniature Horses may compete in one of two divisions. Division "A" Miniatures must stand at 34" and under, while Division "B" Miniatures must measure under 38". Youth members will also have a chance to compete in the Youth Essay contest to win a free Miniature Horse while all the Miniature Horses attending will have a chance to compete for the Vetrolin® Grooming Award. The 2009 Vetrolin Grooming Award, sponsored by Farnam, will be awarded to the "Best Groomed" Miniature Horse at the show. The winner will receive a year's supply of Vetrolin Grooming Products.
"The exciting array of classes, combined with the multiple shopping opportunities at the mini-mall make this an event not to be missed," said Robb. "Each year more horse lovers and families come to enjoy the show. And once they come they are hooked on our little horses."
Admission is free and classes run all day and into the evening. There is food, shopping and lots of big fun with small horses. So mark your calendars to attend the AMHR National Championship Show held at the Expo Square Arena in Tulsa, Oklahoma, September 10-19th.
For more information about the AMHR National Championship Show visit /redirect.php?location=http%3a%2f%2fwww.shetlandminiature.com%2f.