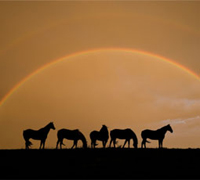 The Board of Directors of The EQUUS Foundation, Inc. is pleased to announce the award of its 2009 grants to 49 charitable organizations that use the horse to benefit the public; promote the horse's health and welfare; and elevate the equestrian sport.
Public Welfare Grants are awarded for therapeutic riding programs and other
equine-assisted activities
for individuals with physical, emotional, behavioral, and learning disabilities, life-threatening or other serious illnesses, and underserved, economically-disadvantaged and "at-risk" youth. Horse Welfare Grants are awarded for
horse rescue
, rehabilitation, adoption and retirement; veterinary education and research; and equine ambulance services. Sport Welfare Grants are awarded to enhance the equestrian sport, through scholarships, awards, youth involvement, relief for equestrians in need, and programs to promote public education and awareness.
"We are thrilled that with the 2009 awards, we are topping $1.3 million in grants since our first awards in 2003, achieving this almost entirely from special events and our newly-established Horse Whisperers program where donors may make a multi-year pledge and have a grant named by the donor in honor of a family member, friend, associate, or in the memory of a loved one or a loved equine companion", said Jenny Belknap Kees, Chairman.
The 2009 Horse Whisperer Grants include the Michele E. Arnhold Horse Whisperer Grant, established by the family of Michele E. Arnhold in 2008 in memory of Michele's life-long passion, her pursuit of excellence and her commitment and contribution to the equestrian sport. The 2009 grant was awarded to Giant Steps School & The American Institute for Neuro-Integrative Development in Southport, CT. The grant will be used to underwrite the cost of the certified therapeutic riding instruction for the school's therapeutic riding program at the Fairfield County Hunt Club, which donates the use of its facilities and horses for the program. Volunteers from the Club membership and the surrounding communities serve as leaders and side walkers for 12 autistic children, participating weekly in Fall, Spring, Winter, and Summer sessions. The Bridgeport Police Mounted Unit, an EQUUS Grant Recipient, also supports the program by donating larger horses for the older children involved.
The Julie & Daniel Frank Horse Whisperer Grant was awarded Communication Alliance to Network Ex-Racehorses (CANTER MI), a thoroughbred rescue, rehabilitation, and adoption facility based in Commerce Township, MI. Founded in 1997, CANTER Michigan has become the national consultant and headquarters for CANTER programs nationwide. Nationally, thousands of thoroughbred racehorses have transitioned through CANTER programs and are now competing in new arenas and enjoying life as equine pets.
Days End Farm Horse Rescue based in Lisbon, Maryland, was selected to receive The Visse M. Wedell Horse Whisperer Grant. Days End Farm Horse Rescue provides shelter, rehabilitation encompassing medical and psychological intervention and care, training, foster care and qualified adoption to abused, neglected and unwanted equines, operating both a Critical Care Unit and an Extended Care program. In addition to its rescue and rehabilitation programs, Days End conducts education and outreach programs to bring attention to the prevalence of horse abuse and neglect, and also provides disaster relief along the East Coast in major natural or manmade disasters.
The Gray & Jerry Fadden Horse Whisperer Grant was awarded to City Slickers based in Wolcott, CT, a 501 (c)(3) multicultural diversity awareness program that uses horses to build riding skills and in that process helps youngsters develop growth in educational and social areas. Through horseback riding program and City Slicker classroom activities, suburban and inner-city youngsters learn mathematics, language and reading skills, basic horsemanship skills, and through the human-animal connection, a variety of skills and behaviors necessary for educational achievement.
City Slickers conducts a year-round program (10 weeks in winter, 10 weeks in spring, 6 weeks in summer, and 10 weeks in fall serving 150 5th and 6th grade students; a mentoring program involving ten 8th grade and 4th grade students; a summer camp program consisting of six one-week sessions for 60 "high needs" children aged 11-18; a vocational-agricultural work program for six students; and a trip to the Winter Equestrian Festival in Wellington, FL for seven Level 3 English riders.
"While we are gratified to have been able to award grants to 49 worthy charities thanks to the generous support of donors, we received over 100 requests and will be working even harder in the coming year to generate enough funds to award grants to all the charity applicants that meet our requirements", said Belknap Kees. Donors can rest assured that due diligence has been undertaken to insure that their dollars are well spent. The EQUUS Foundation undertakes a thorough review of each applicant's management and financial practices.
About The EQUUS Foundation, Inc.
The EQUUS Foundation, Inc., established in August 2002, as a 501(c)(3) national charitable foundation, seeks to raise public awareness of the value of the horse in society through education and the awarding of grants to charities that use the horse to benefit the public, promote the health and welfare of horses, and elevate the equestrian sport as a whole. For more information contact The EQUUS Foundation at equus@equusfoundation.org, or visit www.equusfoundation.org.