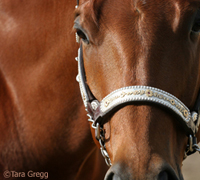 Three individuals and three horses will be inducted into the American Quarter Horse Hall of Fame during the 2010 American Quarter Horse Association Convention, March 5-8 in Kissimmee, Florida.
The American Quarter Horse Hall of Fame was established in 1975 to honor people and horses instrumental in the development of the breed and the American Quarter Horse Association. Induction into the Hall of Fame is one of the highest honors bestowed by AQHA.
Poco Pine
Paul Curtner bought Poco Pine during the dispersal of Paul Waggoner's 3D Stock Farm in 1954 when Curtner was searching for a filly by Poco Bueno and out of a Blackburn mare. Instead, Curtner's wife encouraged him to buy Pretty Rosalie, a Pretty Boy mare with a long-haired colt, Poco Pine, at her side.
Poco Pine was named after Pine Johnson, Poco Bueno's trainer, who had been enthusiastic about the colt when Curtner was not.
Training and age improved Poco Pine in Curtner's eyes. He set a goal of winning 50 grand championships before he would retire Poco Pine from halter competition, and he thought he achieved that goal, though AQHA records only credit the horse with 46 grand championships and 7 reserve grand championships.
In addition to his 135 AQHA points in halter, Poco Pine earned 15 points in cutting and 2 in western pleasure. He was an AQHA open champion and earned his Superior in halter. He earned $776.11 in NCHA competition during the 1950s.
Poco Pine also proved to be a sire of show horses. His first foal crop included two AQHA Champions, Poco Chico and Poco Taos, as well as Poco Lottie, who earned 25 halter points, and Poco Annie, who earned 54 halter points.
His get earned $14,794 in NCHA competition and $3,428 at the AQHA World Championship Show. Of 464 offspring, 199 earned 10,949.5 points, with 41 becoming AQHA Champions. One of those foals, Great Pine, went on to be a major sire of reining horses as well as an AQHA Champion. Poco Pine's son Poco Pecho sired Pecho Dexter, a Hall of Fame inductee.
Rocket Wrangler
Rocket Wrangler was foaled in 1968. In 1970, he hit the racetrack, winning seven of his 13 starts, including the Rainbow and All American futurities. He was the year's high-money-earning horse and was named world champion 2-year-old colt.
After his 1970 win of the All American Futurity, at the time the richest horse race in the world, owner J.R. Adams of Guymon, Oklahoma, sold a half-interest in the horse to B.F. Phillips, who retired the horse to stud.
Rocket Wrangler spent two breeding seasons at Phillips Ranch, then Adams bought back his half-interest and returned the horse to the track. Rocket Wrangler at age 4 won the New Mexico State Fair Handicap over a field that included champion Mr Kid Charge. He was retired from racing permanently in February 1973 and was syndicated in 1980. He sired 1,629 foals, with 1,221 starters and 762 winners.
Rocket Wrangler is 30th on the list of all-time leading sires by earnings and eighth on the list of all-time leading sires by winners. He is 14th on the list of all-time leading broodmare sires by earnings and fifth on the list of all-time leading broodmare sires by winners. His offspring included Rocket's Magic, Rambling Sallye, Quick Wrangler, War Star Wrangler and American Speed. His foals earned $9,407,809 on the track, with Dash For Cash accounting for $507,689 of that total.
He was euthanized November 28, 1992, after suffering from colic and was buried at Royal Vista Equine in Fort Collins, Colorado, where he was standing.
Zan Parr Bar
Zan Parr Bar was foaled April 30, 1974.
He was world champion halter stallion three times, the first horse to achieve that mark. In 1977, he was high-point halter stallion, standing grand at the All American Quarter Horse Congress. He earned 114 grand championships and 13 reserve championships.
In the meantime, he was also earning his way as a roping horse. He was the high-point steer roping horse in 1979, the same year he was world champion aged stallion. In 1980, he placed third at the AQHA World Championship Show in senior heeling, the same show at which he defended his world championship in aged stallions. He also placed in the top 10 at the World Show in heading and heeling. Zan Parr Bar also earned points in reining and western pleasure. In his lifetime, he acquired 602 points.
He retired from the show ring after the 1980 World Show. He continued to be ridden on the ranch while being used as a breeding stallion. His foals earned 44 world championships and 33 reserve world championships. His foals had 43 year-end high-point wins, five year-end all-around high-point wins and three reserve year-end all-around wins. In all divisions combined, his foals have earned 25,593.5 points. Of 653 foals, 236 have been point-earners.
Some of Zan Parr Bar's better-known offspring are: Reprise Bar, the 1984 Superhorse; Sparkles Suzana; Zan Parr Snip; Sparkles Rosezana; Zans Diamond Sun; Zan Parr Jack; and Parr Skip Bar.
Zan Parr Bar died November 27, 1987, of colitis X. At that time, he was AQHA's leading sire of performance horses.
Zan Parr Bar is currently sixth on the list of sires of all-time leading point earners and 17th on the list of sires of AQHA Champions.
Bailey "Stretch" Bradley
In the 1940s, Bailey "Stretch" Bradley started showing in reining, pleasure and cutting. In 1944, he bought his first American Quarter Horse, introducing the breed to the state of Ohio. He then began training and showing on a part-time basis.
In 1967, he was among the small group founding the All American Quarter Horse Congress. Through the years, he helped refine the show into the event it is today, taking on the ground work as his responsibility, a task he continued for 20 years.
He was the second president of the Ohio Cutting Horse Association and executive vice president of the NRHA. He was a director for OQHA and served on many committees. He was named an honorary director in 1986. He was a founder of the first 4-H horse and pony club in Ohio, the Triple T 4-H Club, and was a director of the Midwestern Horse Show and Rodeo.
In 1970, at age 48, Stretch became a full-time professional trainer, hauling Hall of Famer Miss Jim 45 in a 1970 show campaign that ended with 134 wins, 118 grand champion awards and 436 AQHA points for an honor roll title. In 1971, Stretch led Gold Margarita to the open year-end high-point title. In 1975, he did the same for Vallerina Miss, adding a world championship in aged mares. At the time, he was considered one of the nation's best halter trainers. He often hauled to horse shows with youth exhibitors, such as Cindy Johnson, who won four youth honor roll titles.
In 1988, Stretch was named to the NRHA Hall of Fame's third induction class, just months after his death at age 66, based in part on his commitment to seeing horses had the best possible grounds at Ohio horse shows and reinings. That same year, he was inducted into the Congress Hall of Fame.
Carol Rose
Carol Rose began competing in 4-H horse shows at age 8 in California. In college, where she was earning a degree in animal science and ag business, she was the high-point individual judger at the 1962 National Western Stock Show in Denver. In the early 1960s, she focused on reined cow horse competition.
In 1969, Carol was the first woman to make it into the NCHA Futurity finals. She was the NCHA non-pro world champion in 1967-1969 and again in 1975.
She was the first woman to serve on the AQHA judges committee. She has served on the international committee and the long-range planning committee and is a member of Texas Quarter Horse Association.
In 1966, Carol moved to Texas and began breeding horses.
Horses Carol has bred have earned 25 world championships and 30 reserve world championships. She has bred 14 year-end high-point winners, three year-end all-around winners and two year-end reserve all-around winners.
Her stallions Shining Spark, Genuine Doc, Zans Diamond Sun and Zan Parr Bar have extensive records of their own. Her mare Diamonds Sparkle is in the Hall of Fame.
Frank "Scoop" Vessels III
An AQHA life member, Frank "Scoop" Vessels III served as AQHA president in 2004. Vessels has been around good horses all of his life, since his grandfather, Frank Vessels Sr., who was inducted into the American Quarter Horse Hall of Fame in 1989, started both Los Alamitos Race Course and Vessels Stallion Farm.
A recipient of the 1999 AQHA Champion Breeder of the Year and the 2000 Gordon Crone Special Achievement Award, Vessels was first appointed to the AQHA Racing Committee in 1992. He was awarded the John W. Galbreath Award for Outstanding Entrepreneurship in the Equine Industry from the University of Louisville's equine industry program in 2003.
These outstanding horses and individuals will join the other 215 human and equine members of the Hall of Fame who have left their mark on American Quarter Horse history.
The American Quarter Horse Hall of Fame & Museum opened in 1991, and following an extensive redesign, the 44,000-square-foot museum reopened to the public in June 2007. It now features state-of-the-art technology and exhibits. Hall of Fame members are featured in a timeline, which highlights their contributions to the breed.
For more information on any of the American Quarter Horse Hall of Fame inductees, contact the American Quarter Horse Hall of Fame & Museum at (806) 378-5029 or visit www.aqhhalloffame.com.