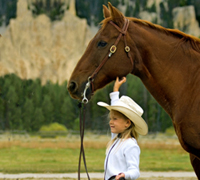 Sometimes it takes a dedicated team to help a horse make it to a new, better life. The Colorado Horse Council is pleased to facilitate just that kind of teamwork at the upcoming Rocky Mountain Horse Expo scheduled for September 18-20 at the Sky Ute Fairgrounds in Ignacio, Colorado.
With the help of two clinicians, a couple of horses with troubled histories will get some extra TLC and a lot of attention. Using a newly arrived horse from Bayfield's Spring Creek Horse Rescue, popular horseman Jason Patrick will conduct a session on Saturday at 4 p.m. on "Evaluating a horse for purchase or adoption"—useful information for any prospective horse buyer, but especially valuable for those considering taking on a horse whose past experience may be unknown.
In two sessions on Sunday (11 a.m. and 2 p.m.), RFD-TV's "Behaviorist" Ryan Gingerich will work with a rescued horse who's already been adopted, but who persists in some dangerous habits. Ryan's goal: to help the horse become a safe and reliable saddle mount.
In addition to featuring arena work with the two horses, the "Rescued and Recycled" teamwork includes a talk by Colorado Unwanted Horse Alliance president, Christopher Whitney, on Saturday afternoon at 2 p.m. He will address the present situation for unwanted horses, pending legislation of consequence to the horse industry, and a wide range of solutions underway or under consideration. Additionally, Colorado Horse Rescue will hold a luncheon and business meeting Saturday at the Expo.
Produced by the Colorado Horse Council to further its mission of uniting horse interests throughout the state, the Rocky Mountain Horse Expo presents three days of education and fun for horse enthusiasts of all kinds. Clinicians will demonstrate a wide range of training and riding approaches, and LPEA-sponsored classroom sessions will focus on aspects of the environmentally-friendly ranch. The Colorado Cowboy Challenge Race (an Extreme Cowboy Association sanctioned event) will be held every day from 1-3 p.m., and Saturday and Sunday mornings will find kids trying their skills at mutton bustin'. For more information about the full weekend, visit www.RockyMountainHorseExpo.com or call (303) 292-4981.