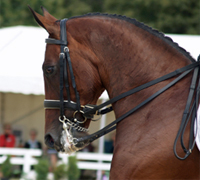 The country's most prestigious dressage show is underway this week in Pennsylvania. Dressage at Devon has been held since 1975 at the Devon Fairgrounds and today draws top dressage riders from around the globe.
In addition to standard dressage classes for all levels, classes are also offered for individual breeds. The Born in the USA awards are given in 14 different categories to top-placing horses of any breed that were bred and foaled in the United States.
Dressage at Devon is a spectator-friendly show that caters to all horse lovers. Besides the competition, there are many equestrian vendors on site for great shopping opportunities. Spectators seeking some expert commentary on the competition can rent FM radio receivers to hear explanations of the various movements and scores.
Additional educational opportunities are available with free daily lectures. Topics include stretching and strengthening for riders, equine nutrition, and arthritis in dressage horses.
Dressage at Devon was started by the Delaware Valley Combined Training Association, a group launched in 1965 and modeled on the idea of an adult pony club. The dressage show began in the early 70s and moved to its current location in 1975. In the early years, the show benefitted the Children's Hospital of Pennsylvania and was staffed by volunteers from both the DVCTA and the Hospital.
Today, Thorncroft Therapeutic Horseback Riding of Malvern, Pennsylvania is the show's beneficiary. Over the years, Dressage at Devon has raised over $1 million for Thorncroft.
For more information, visit www.dressageatdevon.org