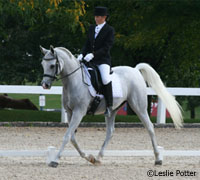 This week, the Kentucky Horse Park is hosting the U.S. championship for Arabians and half-Arabians in dressage, hunter/jumper and carriage driving.
The
Arabian
is one of the most versatile breeds in existence, and this week the Kentucky Horse Park hosts a showcase of the best Arabian sport horses in the country. More than 600 horses are expected to compete at the Sport Horse Nationals, which run September 22-27.
Spectators are welcome and there is no admission fee (parking at the Horse Park is $3/day or $5 for an event pass.) The dressage classes will be held primarily in the dressage complex. The sport horse in-hand classes will be in the covered and annex arenas. The majority of the hunter/jumper classes will be held in the Horse Park's new indoor arena. Carriage classes are set to run in several different venues. The full schedule is available at arabianhorses.org.
For those unable to attend the show in Lexington, Classic Video will be streaming video of the show online at equinevideo.net. With three different rings broadcast over the site, Arabian enthusiasts will be able to catch nearly all of the action at the Horse Park. Streaming video is free, but you must register on the site to access the feed.