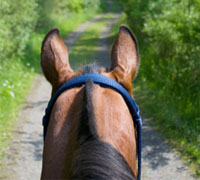 The American Horse Council is pleased to announce its support of the Complete America's Great Trails Act (H.R.1912). This bill was introduced by Representative Gerry E. Connolly (D-VA) and Representative Cynthia Lummis (R-WY) On April 9, 2009.
Hundreds of thousands of Americans enjoy recreational riding. Whether these recreational riders participate in short trail rides or much longer pack trips they often rely on public trails. It is important for the horse community to look for opportunities to increase the number of trail miles available to equestrians.
In 1968 the National Trail System Act was signed into law. This law allows Congress to designate a trail of particular natural beauty as a National Scenic Trail (NST). To date Congress has created eight NSTs, several of which are open to equestrians along all or part of their length.
Most sections of the eight NSTs are managed by the various federal land agencies and are open to the public. However, some sections cross private land to which access is limited or prohibited. Though the combined lengths of the NSTs are 14,600 miles, 3520 miles of these trails remain closed to the public.
This bill would create a new tax credit for private landowners who grant a conservation easement to a NST which crosses their property. It is hoped that this tax credit will encourage land owners to establish easements and complete the NSTs. Such conservation easements will ensure that many more miles of NSTs will be open to the public and users of NSTs will always have access to those portions of NSTs.
"More equestrians each year are riding NSTs like the Pacific Crest trail and the Continental Divide trail. NST are national treasures and they provide equestrians with a unique opportunity to experience the beauty of America just as early explorers and settlers did," said AHC President Jay Hickey. "We are happy to support a bill to that will help complete existing NSTs and make establishing future trails much easer."
"I encourage recreational riders who are interested in promoting this bill or in other efforts to expand recreation opportunities for equestrians to sign up for the AHC's grassroots program, the Congressional Cavalry. The Congressional Cavalry is composed of individuals who will contact their federal elected officials when national issues that impact the horse community arise. It costs nothing and requires little time, but such impute from constituents is very important your Representatives, Senators and the legislative process," said AHC Legislative Director Ben Pendergrass.
To sign up for the Congressional Cavalry program, please email Ben Pendergrass at Bpendergrass@horsecouncil.org.
Read more about equestrian trail preservation.