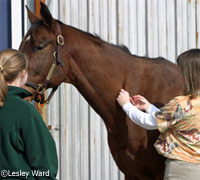 When a horse is infected with rabies, the outcome is invariably fatal. But taking the simple step of ensuring an annual vaccination for your horse will nearly eliminate your horse's risk of contracting this deadly disease.
In observation of World Rabies Day, Sept. 28, 2009, the American Association of Equine Practitioners urges veterinarians and horse owners to vaccinate horses annually for rabies. According to the Centers for Disease Control and Prevention, 42 cases of rabies were confirmed in U.S. horses in 2007, with 53 cases confirmed in 2006. While rabies exposure in horses is less common than in other domestic animals, prevention is a key step in ensuring the safety of both animals and humans.
Rabies is caused by a lyssavirus that affects the neurological system and salivary glands. Exposure in horses most commonly occurs through the bite of another infected (rabid) animal, typically a raccoon, skunk, bat or fox. Clinical signs of rabies are variable and can take up to 12 weeks to appear after the initial infection. Although sometimes no symptoms appear, an infected horse can show behavioral changes, such as becoming drowsy, depressed, fearful or aggressive. Once clinical signs appear, there are no treatment options.
The AAEP identifies the rabies vaccine as one of four core vaccinations for horses. Core vaccinations, as identified by the American Veterinary Medical Association, are vaccines "that protect from diseases that are endemic to a region, those with potential public health significance, required by law, virulent/highly infectious, and/or those posing a risk of severe disease. Core vaccines have clearly demonstrated efficacy and safety, and thus exhibit a high enough level of patient benefit and low enough level of risk to justify their use in the majority of patients."
For complete AAEP vaccination guidelines, click here.
World Rabies Day, organized by the Alliance for Rabies Control and the U.S. Centers for Disease Control and Prevention, spreads awareness and raises funds to support the prevention of rabies in humans and animals. Last year, 85 countries around the world participated. To learn more about World Rabies Day, visit www.worldrabiesday.org.