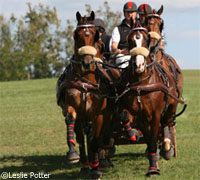 Chester Weber of Ocala, FL, is now in possession of the 2009 Kentucky Cup, which was a test event for the Alltech FEI World Equestrian Games, and a record 7th USEF Four-In-Hand National Championship.  
Weber went into the Cones phase a mere 6.86 points ahead of the pack and maneuvered his team around the course with only a 2.30 time penalty, for a final score of 131.35 to take the title.
"This course was up to international standards," said Weber.  "The time is always difficult at a Championship and I felt that this was good preparation for next year where we are going to have to fight to make the time."
Tucker Johnson, Hobe Sound, FL, placed third in the Kentucky Cup and finished as Reserve Champion, in second place behind Weber as the second highest placing US driver in the National Championship race.  Johnson was within the time on the Cones course, but managed to bump two cones and dislodge the balls on top for a penalty score of 6 and a final score of 141.40.  
"This was a good course" said Johnson.  "I was very pleased and thought it was a very appropriate course for the competition.  For next year I plan to build a team from these horses and the team I have in Europe and prepare by competing in Windsor and Aachen.  Now that we have gotten a taste of what the course can be, with the hazards and the hills, I plan on coming back with something that is ready to show."
Boyd Exell, from Australia, spent the week chasing Weber and Johnson and after his spectacular Marathon phase and was less than 7 points behind the leaders going into the last phase of competition.  Exell drove his team tight and fast, covering most of the track at an extended trot and crossed the timers with only a penalty of 3, for one ball dropped, for a total of 138.91 and second place in the Kentucky Cup.
"The course was, just like yesterday's Marathon, very horse friendly" said Exell.  "It was also nice to watch.  But from my previous competition experience in Europe, this was the most horse friendly.  This was a test event and I anticipate that next year it will go up to WEG standards."
Exell is already guaranteed a spot at the 2010 Games representing Australia.  For Weber and Johnson, the Kentucky Cup and USEF National Championship titles are just two among a history of stiff competition between top American drivers.
"Tucker made me work really hard for this all weekend, harder than in the past," said Weber.  "I remember watching his dressage and thinking maybe he has got me here.  Cones have been my weakness in the past but this was pretty fluid.  I did use Jamaica at the left wheel today and frankly he gave me a bit of grief.  That's what I get for trying to give an 18 year-old a break."