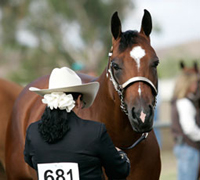 The world's largest single-breed horse show began last weekend in Ohio. Sponsored by the Ohio Quarter Horse Association, the All-American Quarter Horse Congress has run since 1967 and this year is expected to attract approximately 650,000 people and 8,500 horses.
Reining and cutting launched the show and run through Friday, October 9. The schedule moves to primarily English, western riding, trail and halter on October 10. Speed events run from October 22 through the end of the show on Sunday, October 25. For 
Quarter Horse
enthusiasts unable to see their favorite events in person, the show is being broadcast online for free viewing at
reelhorse.com
The Congress offers attendees ample entertainment outside of the show ring. Quarter Horse racing takes place in nearby Beulah Park on October 12, 13 and 25. Demonstrations of nearly all disciplines in which Quarter Horses compete will take place throughout the Congress on site at the Expo Center. Additionally, there will be a series of lectures on horse and farm management and equine veterinary topics. For a complete schedule, visit the Ohio Quarter Horse Association's website.
Anyone interested in purchasing a registered Quarter Horse will have the opportunity to do so at the Super Sale, held on Saturday, October 17. A preview of sale horses will take place on October 16, and a sale catalog is available online. For visitors looking to shop for all-things horse related or western-inspired, approximately 250 vendors will be at the trade show, which runs 9:30am to 7:00pm from October 8-25.