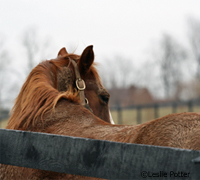 Members of the Equine Photographers Network from all over the United States as well as Canada and the United Kingdom worked together to create an awareness campaign by using their photojournalism skills to highlight adverse issues regarding horse welfare and to help promote equine protection.
The photographers that submitted documentaries found it was much more than just an assignment. The quest of most photographers is to capture beauty in their images. Typically equine beauty is portrayed in color, conditioning, tone, strength, movement, and in their connection with humans. In this assignment, that beauty was not always visible upon the first glance. They found beauty in places most people would avoid looking. Whether it was hardship of their humans, neglect, abuse, greed or in some cases human mental illness, each animal had a story. These are stories born of sorrow, however many of these horses now have hope due to kind intervention.
The photographers that participated in this project helped raise awareness of suffering and neglect. They helped in the adoption effort and in some instances adopted animals themselves. They have made friends through the journey, both equine and human. Further, many photographers have committed to continue their efforts to give back.
Stories and photos from the 2009 Horses in Need Photo Project may be seen here.
This will be an annual project for EPNet and members are already working on their stories for 2010.