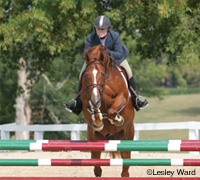 The EQUUS Foundation and the Syracuse Invitational Sporthorse Tournament have joined forces to promote the importance of excellent horsemanship at the George H. Morris Horsemastership Training Session, which will be held January 5-9, 2010 in Wellington, Florida. The mounted sessions will be held in the Grand Prix Ring on the South Grounds of the Palm Beach International Equestrian Center.
George Morris, the legendary horseman and chef d'équipe of the Olympic gold medal show-jumping team in
2008 in Hong Kong
, will lead a select group of top young riders in a comprehensive program in horsemastership not just involving mounted sessions but also sessions conducted by experts on such topics as stable management, veterinary care and nutrition. The aim of the training session is to develop a pipeline of young "horsemasters" for future U.S. Equestrian Teams.
Speaking to the 2009 young riders, Morris said, "Knowledge is power. I've always loved education. And still by my bedside, I always have a horse book. Don't ever underestimate education. We have a problem today and that's called horse show, horse show, horse show, horse show, horse show, horse show. That's competition. That's competitive education. That isn't basic education. That isn't necessarily horsemanship or horsemaster education."
The eligible riders for the 2010 session will be announced on Saturday, October 31, 2009 at the Syracuse Invitational Sporthorse Tournament based in part on their ranking on the National Equitation Computer Ranking and performance.
Auditing of the educational sessions is free and open to the public, as are the coffee and doughnuts provided each morning. For additional information on the George H. Morris Horsemastership Training Session, contact Connie Sawyer at csawyer4@twcny.rr.com