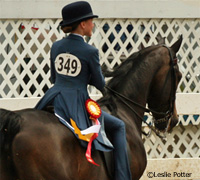 All eyes in the Morgan world are focused on Oklahoma City as the city showcases some of the best athletes of America's first breed.
The diversity of the 
Morgan horse
is showcased annually at the Grand National and World Championship Horse Show, held at the Oklahoma State Fair Park. World and national champions will be crowned in hunters and jumpers, reining, carriage driving, dressage, and hunter, western, saddle seat performance and equitation divisions. The show attracts more than 5,000 visitors and 1,000 horses to Oklahoma City for a full week of competition.
Each year, one of the most coveted honors in the Morgan world is the Youth of the Year title. Morgan enthusiasts ages 21 and younger compete in local Youth of the Year competitions at state and regional Morgan shows. The competitions consist of a written test, an oral presentation; a judging contest, and a ridden or driven pattern. Preliminary winners qualify for the national contest at the Grand National. The national Youth of the Year champion wins a month-long trip to the country of his or her choice as an ambassador for the Morgan breed.
The Grand National is available for live streaming at MorganHorseVideo.com via a pay-per-view service. Visitors can purchase streaming of individual sessions or a full pass for the entire week of the show.
Competition began Saturday, October 10, with three sessions daily through Saturday, October 17. Show times will be at 9:00 a.m., 1:00 p.m. and 7:00 p.m. each day. For those in traveling to Oklahoma City, admission is free throughout the week with a nominal charge for weekend performances.
Download a free Morgan horse screensaver.