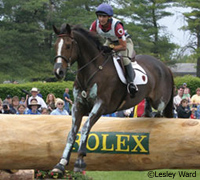 Ticket packages for the 2010 Rolex Kentucky Three-Day Event, April 22-25 at the Kentucky Horse Park in Lexington, KY, will be available starting November 1.
The Rolex Kentucky Three-Day Event, part of the HSBC FEI ClassicsTM and one of the world's most prestigious equestrian competitions, features the best horses and riders vying for their share of $250,000 in prize money.  Enhancing this year's schedule will be the official Kentucky Cup Dressage and Jumping Test Events for the 
2010 Alltech FEI World Equestrian Games
(WEG).  The Games will be held at the Kentucky Horse Park, September 25-October 10, marking the first time that equestrian sport's biggest event is being held outside Europe. 
"Never has there been a better or more important time to attend the Rolex Kentucky Three-Day Event than 2010," said Jane Atkinson, Event Director and Executive Vice President of Equestrian Events, Inc. (EEI), producer of the event.  "Not only will those who come get a chance to see this country's top horses and riders vying for a place on the U.S. Team for the WEG, but they also will see a true WEG preview in all three Olympic disciplines.  I'm not sure I've ever been so excited about what is planned."
Advance sale ticket packages include four-day, three-day (Fri-Sat-Sun), and single day general admissions, as well as group sales and reserved grandstand seating.  Patron Plus, Patron Club, and Equestrian Club subscriptions are also available, featuring prime locations and hospitality amenities.  The biggest improvement is that the Patron Club has been moved ringside, the first time this hospitality admission will provide table seating under cover for watching the Dressage and Jumping Tests of Rolex Kentucky. Parking is included with all ticket purchases.
Tickets also may be purchased for the WEG Test Events. Free admission and open seating in the Park Grandstand will be offered for the Kentucky Cup Dressage Grand Prix, Tuesday, April 20 (9:00 am-5:30 pm); Grand Prix Special, Wednesday morning, April 21; and the Kentucky Cup Show Jumping Warm-Up Class Friday evening, April 23. The Dressage Grand Prix Freestyle, Thursday evening, April 22; the Show Jumping Grand Prix, Saturday evening, April 24; and the Show Jumping Speed Class, Sunday evening, April 25, each will have a single charge that will include both admission to the grounds and a reserved grandstand seat.
Ticket options and prices for all Rolex Kentucky and Kentucky Cup Test Event sessions are available online at the official Rolex Kentucky Three-Day Event website at www.rk3de.org.
Adding to the drama and excitement of this year's Rolex Kentucky Three-Day Event will be the attempt by Oliver Townend of Great Britain to become only the second rider in history to win the $350,000 Rolex Grand Slam of Eventing, awarded to any rider who wins theRolex Kentucky, Mitsubishi Motors Badminton and Land Rover Burghley Four Star Events in succession.  Townend has won the first two legs and at Rolex Kentucky next April, he will seek to join Pippa Funnell of Great Britain, who turned the trick in 2003, as the only riders to win the Rolex Grand Slam of Eventing.
"We think this year will be a fantastic opportunity for people to come out and enjoy watching some of the world's best horses and riders in three exciting disciplines," said Atkinson. "For anyone who's never been to the Rolex Kentucky Three-Day Event, we can guarantee that they won't be disappointed!"
For more information, or to purchase tickets to the 2010 Rolex Kentucky Three-Day Event, please visit the Rolex Kentucky website at www.rk3de.org. To order once ticket sales open on November 1, please order online, or complete the ticket order form and return via mail or fax (859-254-5116) to Equestrian Events, Inc. Phone orders: (859) 254-8123. To receive a printed ticket brochure, send name and mailing address to EEI at P.O. Box 12110, Lexington, KY 40580-2110.
See HorseChannel.com's coverage of the 2009 Rolex Kentucky Three-Day Event >>