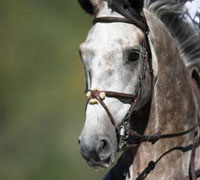 The Washington International Horse Show (WIHS) kicked off on Tuesday, October 20 with the opening gala honoring amateur riders. The show features hunter, jumper and equitation classes through Sunday, October 25.
Highlights of the week include Thursday night's Gambler's Choice Costume Class, Friday evening's puissance, and the $100,000 Presidential Cup Grand Prix on Saturday night. Terrier races are a popular WIHS event and take place each day from Thursday through Sunday.
Sunday is Barn Day at WIHS, where groups of young riders are invited to attend the competition. Washington's World of the Horse is also on Sunday afternoon. This event showcases a variety of horses and equestrian sports, including dressage, barrel racing, Friesians, Saddlebreds, and Miniature Horses.
Many present and future top international riders compete at WIHS. Last year, Olympians McLain Ward and Sapphire won the Grand Prix. Other top American riders, including Beezie Madden, Todd Minikus, Michael Whitaker and Laura Kraut are past competitors in the Presidential Grand Prix.
The Washington International Horse Show is held at the Verizon Center in Washington, DC. Tickets range in price from $10-$50. Kids under 12 are admitted free during daytime sessions. For the full schedule and ticketing info, visit www.wihs.org