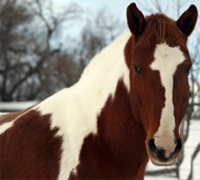 The American Paint Horse Foundation traveled to Colorado recently and soared to new heights when it joined with more than 100 American Paint Horse Association (APHA) directors, the U.S. Air Force Academy and Bell Mountain Stables to raise awareness and support for its work to improve lives through interaction with Paint Horses.
The Foundation, regarded as "The Heart of APHA," capitalized on the association's annual convention, held in Colorado Springs, to network with its international directors from around the world, including the U.S., Brazil, Mexico and Australia, as well as dedicated horsemen and –women in the Colorado Springs, Castle Rock and Denver areas.
Gran Gala grosses more than $15,000

The Foundation kicked off its activities on Oct. 1 at Bell Mountain Stables in Castle Rock with its "Vaquero Gran Gala." The event included therapeutic riding demonstrations, dinner, a lively Mariachi band, as well as live and silent auctions. Participants in the therapeutic riding events included riders and horses from Praying Hands Ranches of Parker, Colo., and The Urban Farm in Denver, Colo. The Urban Farm conducted its demonstration with some of the American Paint Horses that had been donated previously by APHA member Karen Banister and her family.
As part of the evening's festivities, children facing mental and physical challenges displayed their riding abilities to a crowd of about 200 attendees, while their instructors pointed out the healing power that horses have played in the lives of these youngsters.
Command Sergeant Major Valdez, who is involved both as a patient and facilitator in the U.S. Air Force Academy's Warrior Wellness Program, gave a moving account of the work being done to help soldiers to open the lines of communication with their families following the traumas of war. Valdez explained that soldiers returning from the Gulf War often suffer from Post Traumatic Stress Syndrome and find it difficult to discuss their feelings or seek help after their return to the United States.
"When they get on horseback," Valdez said, "that changes." He recounted one example of a wife stating to him. "Thanks for bringing my husband back home," after a meaningful mental transformation on horseback occurred. Valdez and Barrett received a standing ovation in the Bell Mountain Stables arena, which was filled with echoes of applause and resounding cheers.
The Foundation issued $500 grants to the U.S. Air Force Academy for its Warrior Wellness Program and to Praying Hands Ranches and The Urban Farm to continue their outstanding work. This followed seven similar grants given to therapeutic riding centers who were part of the APHA Summer World Show in Fort Worth, Texas, earlier this year. A video of those activities was shown to guests as a further example of how the Foundation is administering funds in the program.
The moving demonstrations and testimonials set the stage for a live auction conducted by former APHA President Tom Elliott, of Benson, Ariz. Never one to be outwitted or accept a low bid, Elliott helped the Foundation set a new record in live and silent auction donations, with more than $11,000 raised.  In all, cash donations amounted to nearly $3,000, bringing the night's gross income to more than $15,000.
The entire event was made possible by the support of hundreds of donors, as listed at aphfoundation.org, as well as Bell Mountain Stables owners Mickey and Rachel Fouts and stable managers John and Cindy Weaver.
APHA and Foundation "aim high" with Air Force Academy

Two days later, on October 3, APHA and the American Paint Horse Foundation were the honored guests of the U.S. Air Force Academy in Colorado Springs. More than 80 riders traversed the scenic Rocky Mountain trails of the Academy. Riders witnessed the vibrant colors of the changing Aspen leaves and wildlife along the way, including curious does and fawns.
The event was billed by the Foundation as the "American Paint Horse Freedom Ride" to support the troops who defend our everyday freedoms. Riders turned out with patriotic attire to show their support of our fighting men and women.
Trail bosses Billy Jack Barrett and Ken Roth, from the Academy's equestrian stables, headed up the ride, with the help of several U.S. Air Force cadets. Also joining the ride were two honored guests — Command Sergeant Major Valdez and U.S. Air Force Cadet Phaelen French, who is an active member of APHA and the American Junior Paint Horse Association.
Mission accomplished

Both the "Vaquero Gran Gala" benefit dinner and the "Freedom Ride" at the U.S. Air Force Academy strengthened an ambitious outreach program by APHA and its Foundation. That program is designed to improve lives through interaction with horses and to welcome more people to the cause of preserving the noble horse culture of our society.