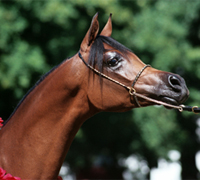 The Arabian show circuit reaches its grand finale this week with the U.S. Nationals at Expo Square in Tulsa, Okla. Approximately 1,800 top Arabian and half-Arabian show horses are expected to compete in western, hunter and saddle seat performance classes as well as trail, reining and cattle events. Halter classes make up a large part of the week's schedule. The championships for hunters, jumpers and carriage driving were held separately at Sport Horse Nationals in September.
This year is the 43rd anniversary of the show and the second year that it has been held in Tulsa. The show runs from October 23-31 with a busy schedule of classes divided amongst three rings over three sessions each day. Admission is free for the majority of the show, but tickets will be required for Thursday, Friday and Saturday sessions in the pavilion arena.
U.S. Nationals hosts a large and competitive youth judging contest. Youth and collegiate judging teams will compete for $10,000 in scholarship awards on Friday, October 30.
As part of the T.A.I.L. (Total Arabian Interaction and Learning) program, youth groups, families and anyone interested in learning more about Arabians can take an guided tour of the show on Monday, October 26 or Wednesday, October 28. Participants will be able to ask questions and learn from an Arabian horse expert and meet some of the horses up close. For more information on this program, email hilary.nixon@arabianhorses.org.
The competition will be streaming live online at equinevideo.net. The video is free to watch, but you will have to register at the site to access the live stream.