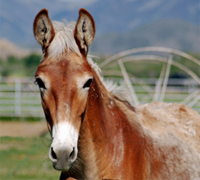 One of the lesser-known annual observances that may not have made it on to your calendar is National Mule Day. October 26 is the date designated to celebrate these unique hybrid animals.
Mules
 are the offspring of a male donkey and a female horse and are more common than hinnies, the offspring of female donkeys and male horses. Because donkeys and horses are actually different species with a different number of chromosomes, their offspring are nearly always sterile.
The size of a mule is largely dependent upon the size of its mother. All kinds of horses are used to breed mules, and draft horses are a popular cross to create heavyweight mules. Today, breeders create designer mules using pinto or Appaloosa horses. Gaited horses often produce gaited mules.
Mules are valued for bringing the best characteristics of horses and donkeys into one animal. They are said to be stronger, smarter and have better endurance than either of their parents and because of these characteristics, they are still valued work animals. In recent years, they have even been used by the United States military to transport equipment in mountainous regions of Afghanistan.
Mule enthusiasts have adapted to a changing equine market, and mules are used as companions and pleasure riding animals. They can be found under saddle and in harness at horse shows and out on the trails.
Make sure you don't miss any important animal holidays. See the full listing here.