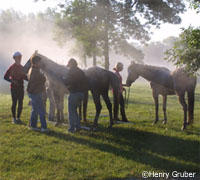 For the first time ever, the Arabian Horse Association (AHA) has combined the Arabian National Endurance Ride and National Competitive Trail Ride into one week of exciting competition, October 27-31 at Lake Carl Blackwell in Stillwater, Oklahoma. Both National Endurance rides are American Endurance Ride Conference (AERC) Sanctioned. An open AERC ride will follow the championships.
Competition began Tuesday with the 100-mile and 50-mile
endurance races
. The National Competitive Trail Ride runs Wednesday and Thursday. Winners will be given a special awards presentation during the final evening of U.S. Arabian Nationals in nearby Tulsa on Saturday, October 31.
To qualify for the AHA Championship Competitive Trail Ride, horses must have completed 100 miles of AHA recognized CTR, placed in the top five at a recognized regional CTR, or placed in the top ten at a national CTR.
The National Championship Endurance Ride includes a 50-mile and 100-mile ride. To qualify for the 50 mile, horses must have completed 200 lifetime miles of 50 mile or longer recognized endurance races. Qualifiers for the 100 mile must have completed 300 lifetime miles. In endurance competition, completion of a race means that not only must the horse and rider complete the entire route, but the horse must be pronounced fit to continue by an attending veterinarian.
The dates of the National Endurance rides coincide with that of the U.S. Nationals in Tulsa, Oklahoma, about an hour and half away, giving horse lovers in Oklahoma plenty to see. Arabians, Half-Arabians and Anglo-Arabians, known for their versatility and athleticism will be on display at the Distance Nationals and U.S. Nationals for the public to enjoy everything from the grueling 100 mile endurance ride to the glitz and glamour of Country English Pleasure.