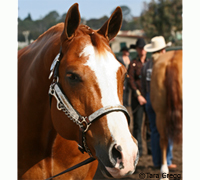 For 16 days in November, Oklahoma City will host the top American Quarter Horses from around the world that will be competing at the American Quarter Horse Association's Bank of America Amateur and FedEx Open World Championship Show. The competition gets underway November 6 at State Fair Park. American Quarter Horses will display their versatility as they vie for 94 world championship titles.
The 2009 World Show entries are complete and working orders are now available. This year, AQHA received 3,464 entries for the 2009 World Show compared to 3,498 in 2008. Entries were received from 46 states, six Canadian provinces, Brazil, France, Germany, Sweden and the United Kingdom. With 2,102 horses slated to compete, the Oklahoma City economy will see a boost of more than $30.9 million from exhibitors and spectators.
Through the generosity of Bank of America, FedEx and other AQHA corporate partners, $600,000 of added money is up for grabs. The horses will compete for world champion titles and a share of more than $2.7 million in cash and awards. Building on the success of last year, the 2009 World Show will utilize the Performance Arena for preliminaries in some classes. All finals will be contested in Jim Norick State Fair Arena.
Back by popular demand, the spotlight will shine on the equine stars at this year's World Show as AQHA crowns the Most Valuable Horses in six divisions. The MVH Awards recognize the highest point-earning horses in the open divisions of Western (western pleasure, western riding and trail classes); Roping (heading, heeling and tie-down); English (hunter under saddle, hunter hack, working hunter, pleasure driving and jumping); Pattern/Cow (cutting, reining and working cow horse); Speed (barrel racing and pole bending) and Timed (ranch sorting and team penning). MVH winners will each receive $5,000 cash and special recognition at the show.
The Featherlite All-Around Amateur and Superhorse awards remain the most prestigious honors and will be presented to the horse earning the most points in a minimum of three events in two categories in amateur and open competition, respectively. The winners will receive a $25,000 certificate toward the purchase of a Featherlite trailer and other prizes.
AQHA is concerned about the health and well-being of its membership and is teaming with the University of Oklahoma Health Sciences Center to provide free health screenings on November 17 in Barn 3 by the Sales Pavilion. For the third year, AQHA and OUHSC are also hosting Saddle Up For Life, an event that recognizes cancer survivors and raises money for cancer care. This year, Saddle Up For Life will be held Friday, November 13.
From horsewares to housewares, this year's AQHA Trade Show is sure to fulfill all your holiday shopping needs. The trade show features more than 130 booths with unique items and is too big for just one building. Visit the free trade show 9 a.m. to 6 p.m. November 6-10 and 9 a.m. to 7 p.m. November 11-21 in the Travel & Transportation Building and the Cox Pavilion at State Fair Park.
America's Horse.TV, AQHA's online television network also will feature highlights from the World Show. Be sure to check americashorse.tv for World Show coverage and other features from the American Quarter Horse industry.
General admittance tickets are available for $7 and reserved seating for $10. For more information about purchasing tickets through State Fair Park, call OK Tickets at (405) 948-6827. Tickets also may be purchased online at tickets.com. Limited individual box seat tickets are available for $12. For individual box seat sales, call (405) 948-6807.