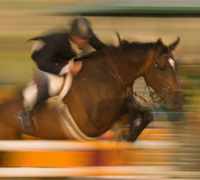 Late fall is the time of year when many equestrians head toward southern show circuits in Florida and southern California. But the northern show circuit isn't over yet.
Canada's Royal Agricultural Winter Fair is the world's largest indoor agricultural fair and international horse show. Since its inception in 1922, it has drawn thousands of farmers and equestrian exhibitors from throughout Canada and the United States. The agricultural fair is still strong today, but the horse show has taken on international significance in a variety of disciplines.
Featured equestrian competitions include draft horses, pony driving, western events and hunter/jumpers. Sunday night features the Royal Rodeo with a full slate of rodeo events. Wednesday night kicks off the international show jumping competition with the CN FEI World Cup Grand Prix.
A highlight for spectators will be the Superdogs Canine Equine Challenge, held on November 14. Dogs are paired with show jumpers to compete a combined course, similar to a relay race. The horses go through a show jumping course, and upon completion, the dogs run an agility course.
Tickets are still available for most equestrian events. For more information, visit royalfair.org. The horse show will be broadcast live online for free viewing through the end of the show on November 15.