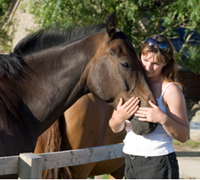 Students and adults who are interested in a career with horses are being given a chance to learn more about their educational opportunities in the equine field. "Your Future with Horses: An Equine Education Fair" will be held in conjunction with the KHC annual conference on November 14, 2009 at the Scott County High School in Georgetown, Kentucky.
Your Future With Horses will feature speakers in 16 different equine careers who will speak about their fields, educational choices that led them to their careers, and will offer advice for those who are considering these careers. In addition, representatives from over 16 colleges, universities, and other educational programs which offer equine related programs from Kentucky and around the country will provide information on their programs.
"As an equine organization that is dedicated to education, we want to be sure to keep people aware of the many choices they have in regard to working with horses. Your Future With Horses will allow students to explore their educational choices and find a path to the equine career goal that best suits them." explained Madelyn Millard, KHC Board President.
"It is very easy to forget about how many career possibilities there are in the equine industry. Many people limit their educational options because they are simply not aware of the numerous choices they have. This conference will present a wide variety of these options, thereby ensuring that the equine industry benefits from focused young professionals," Millard continued.
"Your Future with Horses" is free and open to the public. The event runs from 9am to 6pm. Visit the Your Future With Horses website.
For more information or to become involved, visit www.kentuckyhorse.org or contact the Kentucky Horse Council at (859) 367-0509 or email info@kentuckyhorse.org.
Read more about careers in the horse industry >>
Read about apprenticeships in the horse industry >>