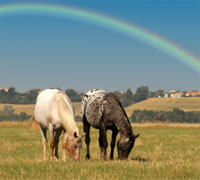 News of increased numbers of neglected and unwanted horses amid difficult economic times has been a cause for concern in the equestrian community. With many established horse rescue operations already filled to capacity, horse lovers are seeking new ways to ensure safety for horses that might become neglected.
The
Appaloosa Rehoming Resource
is a new, non-profit organization that helps owners care for their
Appaloosas
or find them new homes. The ARR was established for the following purposes:
To assist in rehoming Appaloosa horses in need of new homes, whether due to already being starved/neglected, or to prevent starvation/neglect, due to owners' inability to care for the horse(s). Financial assistance may be provided for hay & grain, transportation costs to a new home, placing horses in temporary homes until permanent homes can be found, emergency veterinary care, & other disbursement of funds when & where the life of an Appaloosa horse might be in jeopardy.
To provide a resource to the public for placing individuals in contact with owners who have an Appaloosa horse needing a new home, as well as providing information to the public about horses in need.
To provide temporary aid in the way of emergency funds for hay & grain, when a horse owner is facing imminent, or is in temporary crisis caused by such unforeseen circumstances such as fire, illness, job loss, etc.
Though the mission of the ARR is breed-specific, they will also post listings for other horses available for adoption on their website, at their discretion.
Though horses of all breeds, including grade horses, are often in need of rehoming, breed-specific organizations help by utilizing a network of owners and enthusiasts of a particular breed to help find the best homes.
The ARR is modeled after the Arabian Horse Rehoming Resource, an organization that helps find homes for unwanted or neglected Arabians and half-Arabians.
Other breed-specific, non-profit rescue organizations include:
Thoroughbred Retirement Foundation, an organization helps retrain and rehome Thoroughbred ex-racehorses. TRF has several affiliated retraining centers throughout the country. Read more >>
Saddlebred Rescue, a New Jersey-based organization that rescues, rehabilitates and finds new homes for horses rescued from auction or surrendered by owners. Though their focus is on Saddlebreds, they rescue other breeds as well. Read more >>
The Standardbred Retirement Foundation helps to find permanent homes for ex-racing Standardbreds. They retrain sound horses and find companion homes for those that have sustained injuries and cannot be ridden.
Forever Morgans rescues at-risk Morgan and part-Morgan horses from auction and works with other rescue organizations to find adoptive homes.
Gentle Giants Draft Horse Rescue takes in slaughter-bound draft horses, retrains them and adopts them out as riding horses. United in Light Draft Horse Sanctuary rescues neglected draft horses and provides them with a permanent retirement home.
The American Quarter Horse Association launched its Greener Pastures program earlier this year to help prevent registered Quarter Horses from becoming unwanted. AQHA members can indicate on a horse's registration papers that they will assist in finding a suitable home if the horse ever becomes unwanted or in need of a retirement home. Read more >>
Many rescue organizations for all breeds of horses operate throughout the country. View our list of rescue organizations here. Always visit a rescue or do careful research on their history, practices, and non-profit status before becoming involved as a donor, volunteer, or adopter.