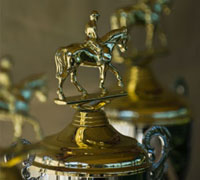 The inaugural presentation of the United States Equestrian Federation (USEF)
EQUUS Foundation Humanitarian Award
will take place at the USEF Pegasus Awards Dinner during the Federation's Annual Meeting on January 16, 2010.
The EQUUS Foundation is searching for equine artists to design the permanent trophy, which may be a painting or sculpture that depicts the humanitarian achievements made by a member of the equestrian community. The submission may be an existing portfolio piece of the artist.
Equine artists interested in submitting their artwork for consideration should contact Lynn Coakley at equus@equusfoundation.org. Photos at high resolution and a complete description of the artwork must be submitted electronically by December 1, 2009. If selected, the art must be received at the United States Equestrian Federation Headquarters in Lexington, Kentucky by January 1, 2010.
The United States Equestrian Federation Pegasus Awards honor individuals who have made a unique impact on the horse world. The Pegasus Awards include a wide range of distinctive honors, including the Walter B. Devereux Sportsmanship Award, Ellen Scripps Davis Memorial Breeders' Award, Junior Equestrian of the Year Award, The Marty Simensen Memorial Trophy, The Richard E. McDevitt Award of Merit, Equestrians of Honor/ Equestrian of the Year, Horse of the Year Award, The USEF Lifetime Achievement Award, and the Pegasus Medal of Honor.
The goal of the Humanitarian Award is to spotlight and exalt the selfless dedication one individual or a group of individuals has made, whether on a regional or national scale. From improving the health and welfare of the horse to promoting and expanding the general public's appreciation and respect of the diverse role of horses not just in equestrian sports but also as aides to the general public, the recipient of this award will be someone who has devoted considerable personal time to make the lives and quality of life of our equine partners paramount. The recipient of the Humanitarian Award will receive a $5,000 grant from The EQUUS Foundation to be awarded to the equestrian or horse-related charity of his or her choice.